ICP Triennial to Tackle Ecological Issues
'Ecotopia' examines ways artists are representing the natural world in a time of fear and anxiety.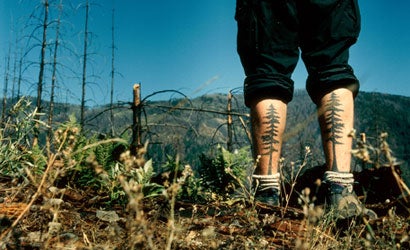 The International Center of Photography's second triennial exhibition, titled Ecotopia, seeks to examine issues of nature and man's impact on the environment, while reflecting a climate of fear and anxiety that is present in modern day society.
The wide-ranging show, representing 40 artists from 20 different countries, opens to the public Sept. 14 and runs through Nov. 26 in the institution's midtown Manhattan gallery space.
Speaking at a press preview for the exhibition earlier this spring, ICP chief curator Brian Wallis said that of all the work the curators considered over their two-year search, "a surprising number of artists and photographers are looking at issues of nature, the environment and environmental change."
Citing the recent Al Gore documentary examining causes of global warming and recent cataclysmic events such as the Indian Ocean tsunami and Hurricane Katrina, Wallis said, "When people look back on 2005-2006, they'll say it's when people finally woke up to the crisis of the environment."
The exhibition looks to mirror this awakening, presenting works ranging from photographs by Robert Adams, the "dean of American landscape photography," to younger photographers like Mary Mattingly, whose photographs explore what happens after environmental disasters. The exhibition will also include site-specific installations, cell phone pictures of last year's tsunami and never-before-seen works by Mitch Epstein and Catherine Chalmers.
|| |—| | * View Selected Images * Read a Review * www.icp.org | Chalmers, best know for her close-up, allegorical photographs of insects, will premiere a film called "Safari" that uses extreme close-ups of lizards, snakes and bugs in a farcical re-telling of the story of evolution.
Wallis said "the general idea was to present what we as curators felt was the most interesting, exciting and dramatic developments in photography" looking across everything from photojournalism to fashion photography to fine art and video installations.
"Very few artists and photographers [in the exhibition] deal with issues of the environment in an overtly political way," Wallis said, "but what we see is a looming fear and anxiety on the horizon." As an example of this peripheral look at the exhibition's main theme, Wallis pointed to Epstein's "American Power" series. One of Epstein's photos shows a suburban house in the foreground with a hulking coal power plant looming ominously overhead. Wallis noted that Epstein was detained by Homeland Security agents for the better part of a day while taking pictures for the series, a story that's become commonplace in this post-9/11 world.
Photos by British photojournalist Simon Norfolk and the U.K.-based duo of Oliver Chanarin and Adam Broomberg continue the more evocative approach, while Wallis held up former ICP student Christopher LaMarca as an example of a photographer who deals with political issues more directly.
"Ecotopia" came together over the last two years through the work of Wallis and fellow ICP curators Christopher Phillips, Edward Earle, Carol Squiers, and assistant curator Joanna Lehan. A fully illustrated catalogue published by ICP/Steidl as well as lectures and artist talks will accompany the exhibition.
Robert Adams
Doug Aitken
Jennifer Allora and Guillermo Calzadilla
Wout Berger
Patrick Brown
Catherine Chalmers
Oliver Chanarin and Adam Broomberg
Stéphane Couturier
Lou Dematteis and Kayana Szymczak
Yannick Demmerle
Goran Devic
Mark Dion
Sam Easterson
Mitch Epstein
Joan Fontcuberta
Noriko Furunishi
Marine Hugonnier
Francesco Jodice
Harri Kallio
Vincent Laforet
Christopher LaMarca
An-My Lê
David Maisel
Mary Mattingly
Gilles Mingasson
Simon Norfolk
Otolith Group: Anjalika Sagar, Kadwo Eshun, Richard Couzins
Sophie Ristelhueber
Clifford Ross
Thomas Ruff
Carlos and Jason Sanchez
Alessandra Sanguinetti
Qingsong Wang
To suggest a different link for any of the photographers, e-mail Jay DeFoore.