Getty Announces 2006 Grant Winners
The three winners -- Simon Roberts, Sarah Caron, and Rena Effendi--will each receive $20,000.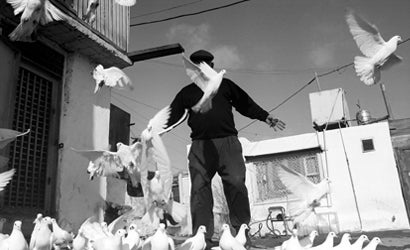 Getty Images announced the final three recipients of its 2006 Grants for Editorial Photography today, helping to fund photo projects about the war in Chechnya, Palestinian martyr culture, and people displaced by an Azerbaijani oil pipeline.
The three winners–Simon Roberts, Sarah Caron, and Rena Effendi–will each receive $20,000 as well as collaborative editorial support from Getty photo editors to execute their projects. They will also be offered one-year exclusive rights deals with Getty, but the photographers will always retain copyright of their images.
British-born Roberts plans to highlight the injustices of the Chechen conflict by focusing on Russian soldiers and their families. His past projects have taken him to Sub-Saharan Africa, Israel, and Palestine, as well as the Ukraine and Chechnya, and he has contributed photo stories to Time, Details, Guardian Weekend, Sunday Times Magazine, Der Spiegel and Le Monde 2. Roberts's new book, Motherland, will be published in Spring 2007.
Caron's look at the Palestinian Al-Aqsa Martyr Brigades will unearth the fighters' motivations by examining both their daily life and the way they are portrayed in death testimony imagery. Caron, who was born in France, has exhibited throughout Europe and was selected for a solo exhibit for the "Visa Pour l'Image." Her work has been published in Newsweek, The New York Times Magazine, Marie Claire, Le Monde, El Mundo, and The Independent.
Effendi, who is from Azerbaijan, has chosen to document the people living along the new multi-billion dollar Baku-Tbilisi-Ceyhan pipeline. Having worked frequently with the themes of urbanization, corruption, and post-conflict societies, Effendi will focus on the people trapped between geopolitical interests battling over the pipeline. She has exhibited across Europe, was chosen for the 2006 "Visa Pour l'Image," and has been published in Le Monde, Newsweek, Photo District New, Ogoniok, and Photo & Video.
These three grant recipients were chosen from 120 entries from 29 countries by judges Elaine Laffont, editorial director for Hachette Filipacchi Media; Tony Chambers, creative director for Wallpaper* Magazine; and Susan A. Smith, deputy director of photography at National Geographic.
* See also Getty's 2007 Grant recipients, Christopher Anderson and Ziyah Gafic (photo gallery).