The Forgotten Leader
How David Hume Kennerly reinvented political journalism in Gerald Ford's White House.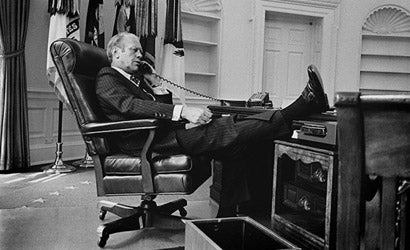 David Hume Kennerly takes some pride in his own sense of balance, which makes the obviously swollen left hand hanging at his side particularly irksome for him.
"I'm normally very coordinated," he says with the slightest wince as we sit at a table outside a Manhattan restaurant. An hour before our meeting, Kennerly stepped off a curb on a downtown street corner and slipped, spraining his wrist. "I went through the Vietnam War without a scratch," he says, "but I may not survive New York City today."
Kennerly has a home in Los Angeles — he recently made a portrait of his neighbor, the playwright David Mamet — but he's a veteran bicoastal media figure who is regularly in Washington, D.C., to photograph politicians. He's here in New York today to meet with editors at NBC News, for whom he will be covering the 2008 presidential campaign. Over the course of his long career he's been adept at straddling media, from television news (contributing editor for Good Morning America from 1996 to 1998) to film (executive producer of The Taking of Flight 847, a 1989 movie of the week) to books (Sein Off: The Final Days of "Seinfeld," 1998) to magazines (he's a contributing editor to Newsweek).
Once, a long time ago, he worked for a newspaper wire service — that was when he was covering Vietnam for United Press International. His work there won him a Pulitzer Prize. But what he is probably still best known for is the job that he took in 1974, when he became the White House photographer for President Gerald Ford.
During the 28 months and 10 days of the Ford presidency, Kennerly redefined the role of the White House photographer, documenting the work and life of the chief executive with a level of access no one ever had before. In part that was because Gerald Ford faced a political crisis that no president ever had. After the secret enemy lists of the Nixon White House and the debacle of Watergate, Ford was faced with the job of returning trust to the office of the president. He self-consciously brought a new openness to the corridors of power. Kennerly, seemingly by the president's side day and night, from crisis-management meetings in the Oval Office to jolly interludes in the White House barbershop, filled an essential political role.
This January, a little over a year after Gerald Ford died at age 93, Kennerly is bringing out a long-awaited collection of his White House photographs. The book, Extraordinary Circumstances: The Presidency of Gerald R. Ford (Center for American History, University of Texas Press, $49), is a graphic reminder of what has come to be a forgotten time in American politics. For many, Gerald Ford is perhaps best recalled as Chevy Chase's clumsy alter ego on Saturday Night Live. In Kennerly's photos, Ford often comes across as the ultimate middle-aged, middle-class American family man. "What you see, that's just what he was," says Kennerly. This quintessential Everyman, pipe in mouth and bedecked in '70s-era plaid trousers, guided a nation on the brink of disaster, from the constitutional crisis of Watergate to the demoralizing American pullout from Vietnam and the surge of crippling inflation.
For those interested in political history, Kennerly's images are richly annotated. Many of the anecdotes are provided by Tom Brokaw, who covered the Ford White House for NBC and recently interviewed the administration's principals for their memories of the era. Among those principals: Ford Secretary of Defense Donald Rumsfeld, as well as White House Chief of Staff Dick Cheney, looking younger, thinner, and certainly more jovial than he does today.
Most fascinating, perhaps, is the insight the book provides into the power that pictures have in the political life of a democracy. Given more access to the president than any photographer before, Kennerly was able to successfully balance multiple roles, as journalist, historian, and propagandist. In the end, his images from inside the White House were an important part of the legacy of Gerald R. Ford.