Focusing on the Photoessay
With help from some of photography's top pros, students at the FirstLight Workshops learn how to tell a story with images.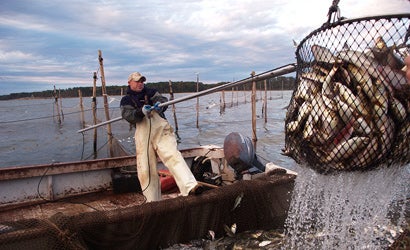 Photographers like to say that the first light of day is the sweetest. That's why nine photographers who've gathered in the quaint Maryland town of Cambridge are eager to capture the moment the sun begins to rise over Chesapeake Bay. They will be around to shoot the setting sun, too, because they're all participating in the aptly-named FirstLight Workshops.
Led by Pulitzer prize-winning photographer Jay Dickman, whose editorial credits include National Geographic, Life, Time, and Sports Illustrated, the five-day, Olympus-sponsored workshop has an extraordinary staff. It includes Geographic photo editor Bert Fox, Photoshop maven Jay Kinghorn, editorial photographer (and Cambridge resident) David Harp, and Olympus tech expert Marc Farb. It also has a wealth of Olympus digital SLRs, lenses, and other photo gear to draw on.
But it's not just credentials and equipment that distinguish these workshops, which are held in various locations in the U.S. and overseas. (Visit firstlightworkshops.com for the 2007 schedule.) Their aim is to guide students through digital workflow in a way that simulates the experience of a working pro creating a photo story for a magazine. Each student chooses an assignment for the week, shooting mornings and afternoons. Later each day and in the evenings there are individual and group critiques, slideshows, and image-editing instruction, all with an eye toward producing an actual printed magazine that is sent to students after the workshop ends. The week culminates with a group exhibition attended by local residents.
As an invited guest, I got to observe the whole process, and was amazed at how smoothly and efficiently the team handled the more than 13,000 images shot by participants that week. After the day's photography, Jay Kinghorn downloaded the contents of students' memory cards, organized them into folders, and put them on a network. Working with Fox and Dickman, students then edited each day's work down to their best five shots. Everyone's pictures were later presented in a slideshow for group discussion. And given that the workshop aimed to produce both a magazine and an exhibition, post processing was an important part of the workflow. Kinghorn helped students work Photoshop magic on their images, also printing them for the Saturday night gallery exhibit. "I've learned more from Jay in one week than I've learned from two books in a year," said Patrick Van Horn, a carpenter in his other life.
It was no surprise that Van Horn chose to do his story on local furniture maker Matthew Falls. I accompanied the photographer on a shoot and literally could see him apply the advice he had received from Dickman and Fox. He "worked" the subject, shooting frame after frame of Falls in his shop, until he got the image he wanted. Then he moved on to another composition. Everyone could see the daily improvement in his images, Van Horn included. "The veil was lifted," he said about his progress.
Other students reported similar experiences. "The workshop expanded my critical eye for photography," said dentist Don Henckel. "I was blown away by the knowledge and skills of everyone involved." While Henckel was shooting all-digital for the first time, Jon Yamamoto, a former pro who now works at a Colorado camera store, couldn't resist slinging a couple of 35mm Leica rangefinders over his shoulder along with his digital SLR. "I've always been a run and gun photographer," he explains. "I think I'm missing some things, and don't always get the best shot." At the FirstLight Workshop, Yamamoto finally slowed down — and got some great photographs of the comings and goings at Doris Mae's, the local coffee shop.