Festival Review: PHotoEspaña 2007
Spain's historic architecture and a new location play key roles in Madrid's tenth annual photography festival.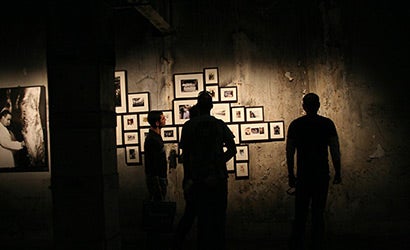 When is a gallery not just a gallery? How about when it is Madrid's gigantic Conde Duque cultural center built as an army barracks in the early 18th century and considered the apex of typi
It was often with these large, theoretical multimedia shows that this year's festival seemed to hit its stride. For instance, Man Ray Unconcerned But Not Indifferent was a fascinating look at the art and objects that inspired the American-born, French-adopted multimedia master. At a press walk-through of the extensive exhibit, co-curator John Jacob remembered a friend calling to ask if he had heard of a Man Ray trust in Long Island, of all places. It turned out to be a nearly undocumented treasure trove of historical bjects overseen by Ray's wife that including unseen paintings, items used to make the artist's famous "Rayographs," and his signature bowler hat and walking cane. After four years of documenting the trust's holdings, Jacob and Noriko Fuku created this show and a burgeoning catalogue highlighting Ray's sources of inspiration and drawn exclusively from the Long Island trust.
But photo exhibits alone do not a photo festival make