Fashion Meets Fine Art
A new exhibition at SVA highlights the crumbling wall between fine-art and fashion photography.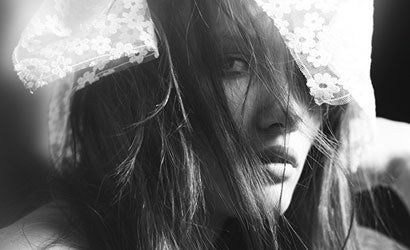 Immediately before his death in 1955, famed American photographer George Platt Lynes destroyed countless negatives and prints, terrified that his legacy would be tarnished if the public got their hands on them. Lynes achieved international fame for his celebrity portraits and shots of ballet dancers, but he was convinced history would deal unkindly with him for his "other" oeuvre of male nudes — and fashion photographs.
The fine-art community wasn't so accepting of fashion work in those days, but a new exhibit at New York's School of Visual Arts highlights the breakdown of the once-rigid boundary between fashion and fine-art photography. "Young photographers aren't shy. They're not worried about that distinction," says Brian Clamp, who owns ClampArt, a New York gallery specializing in photography.
Opening Sept. 6 at the school's Visual Arts Museum, Click Chic includes the work of six of the school's graduates who use fashion photography as an outlet for creative expression, formal experimentation, and social commentary. Fashion images found in magazines and on billboards are commonly considered disposable, says Dan Halm, a fine artist and the exhibit's curator, but "if you look at these [photographers] outside the context of a glossy magazine, they have the same formal training, the same interests, that fine artists have." As he sees it, the breakdown of those boundaries is helping to create a new "golden age" in fashion photography.
The works in Click Chic are, indeed, far from standard catalog fare, likely because of the photographers' eclectic approaches. Their reference points and backgrounds range from Art Nouveau to film noir to Kabuki theater. A woman wearing a yellow kimono has her back to the camera in one of Chiun-Kai Shih's shots, her long black hair obscuring her skin. Several of Guy Aroch's works, often shot in black and white, show little more than the model's face.
Vision sets this type of work apart from most fashion work and allows it to function as fine art, according to Halm. "They straddle the fashion and the fine-art worlds, and you'd never know if they were in one or the other," he says. In one of Sarah Silver's contributions to Click Chic, a woman wearing a jeweled red mask pulls at her neon-yellow outfit, shrieking with her head arched back. To further the model's apparent movement, Silver used a drag shutter, and the image seems to shake. The photograph, which appeared in the German fashion magazine Lush, explores tension and the concept of masquerade. "She took on the qualities of this made-up, fictitious character," says Silver, whose work has also appeared in Elle and French Vogue. Cartoons like Spy vs. Spy inspired one of Ryan Michael Kelly's photographs. The image, from an unpublished photo story, shows a masked figure dressed in black leather holding a model from behind. They represent a woman and her shadow, says Kelly, who has shot for Vogue and Men's Vogue. "I try to keep the images deep but simple," he says.
Still, it's unlikely that Click Chic will convince everyone of fashion photography's potential to be fine art. Halm says that in some circles, archaic views on fashion are bound to persist. Some fine-art photographers, he says, will always eschew commissioned fashion work, considering it impure and aesthetically limiting. "You could give them a boatload of money and they'd turn their nose," he says. This attitude, however, doesn't seem to bother fashion photographers like Silver. "There are probably a lot of people who don't think fashion photography is art," she says. "But we fashion photographers don't care about those people."