Family Secrets
Takahiro Kaneyama's intimate portraiture stands out at the Japan Society's centennial exhibition.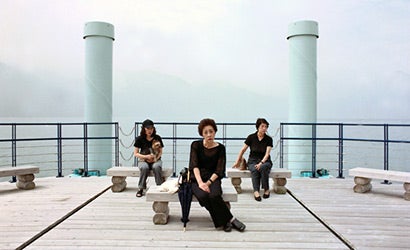 American art has long been enriched by the influx of sensibilities from other cultures.
Nowhere is this more evident than in current fine-art photography: Immigrant photographers are always bringing new ideas and aesthetics to the medium, sparing it the insularity that can diminish other nations' art. It certainly helps that perhaps more than any other visual art, photography transcends its immediate culture.
The ambitious centennial exhibition at New York's Japan Society can be viewed in this light. On display until January 13, 2008, "Making a Home" features the work of Japanese artists who live in New York. (The most familiar of those repre-sented is Yoko Ono.) Some of the show's content has a predictable pop-culture charm, sending up — or so one hopes — the Japanese obsession with kawaii, or cuteness. The more complex work is often by photographers, though, and these include Kunie Sugiura, Mayumi Terada, and Takahiro Kaneyama.
Kaneyama's work stands out. It is visually austere yet vivid, a character that pervades Japanese art. But it manages to reconcile this quality with the detached, observational mode of contemporary American photography, particularly as seen in portraiture.
Kaneyama first came to the U.S. to study film-making at the City College of New York. "I had done some drawing and painting in Japan, but I hardly ever took pictures," he says. "And I gave up on filmmaking because I just didn't think collaboration was something I could do." Kaneyama went on to get his MFA at New York's School of Visual Arts, then studied documentary photography for a year at the city's International Center of Photography. While he has created several impressive series of photographs in and around New York, some of his most evocative work — the work being exhibited at the Japan Society — is environmental portraiture of his Japanese family.
Unlike many fine art photographers who make images of non-American cultures, though, Kaneyama doesn't toy with stereotypes. That's understandable, because his family hardly embodies the idealized, sanitized image Americans often have of Japan's ordered social structure. Disputes over money and property have troubled the photographer's family, and his mother has been in and out of mental institutions since he was young. For that reason he was raised mainly by his grandmother and his mother's two sisters. He has made portraits of these important women every time he returns to Japan, as part of a continuing series called "While Leaves Are Falling."
Over the course of this project, Kaneyama's grandmother — he sometimes refers to her as his real mother — became ill and died, an event that was deeply traumatic for him. His photographs before and during the illness showed not only the old woman but also her apartment and possessions. Even the images in which she actually appears have a sort of airless still life quality, her presence evanescent.
Since his grandmother's death, Kaneyama's focus has turned to his biological mother and two childless aunts. Many of his images of these sisters are made on short trips from Tokyo. The destinations vary. "I choose places that my aunts or mother have always wanted to go to, or revisit," Kaneyama explains. He usually photographs the three women together, always with careful thought about their relative placement in the frame and often with one of the aunts holding the Yorkshire Terrier that has become a sort of surrogate child for her.
For Kaneyama, these trips are more than just photographically productive. They somehow compensate for the fact that he had little such family experience growing up. "I think we are all aware that we're preserving memory through photographs, but I'm sort of reconstructing it," he says. "We never did anything like this before my grandmother died. And the fact that my mother's illness gets worse every year makes me feel more urgently that I should record the time we spend together."
The project and its process have given Kaneyama a greater consciousness of age-related change. "The grayer hair and the wrinkles and lines in their faces and necks made me realize how many years have passed since I left Japan," he says. He also feels that the experience of photographing his remaining family has created "tighter bonds" with them. Yet his pictures have a persistent sadness. "When you're little, it's as if your parents are a fixed, unchanging thing," he observes. "It never enters your mind that they and their generation will get old and slowly pass away."
One of Kaneyama's other ongoing series of images offers a counterpoint to the gradualism of "When Leaves Are Falling." Called "1971," it consists largely of environmental portraits of Americans born in that year, the year of the photographer's own birth. (View portfolio.) "I'm trying to uncover the different ways that thirty-somethings handle these pivotal years," says Kaneyama, who has found some of his subjects through social connections, most by advertising on Craig's List. "It's a time when these people find themselves forced to make some critical choices." Each picture is paired with a short first-person text that tells what the subject does for a living and describes his or her life experience and philosophy. The photographer plans to shoot the same subjects every year or two, both to document physical changes and to track life-shaping decisions.
(For Kaneyama himself, one of those "critical choices" is that he is now studying to be a Certified Public Accountant. "Having a steady income isn't a terrible thing if you're trying to be an artist," he says. "I was a business major when I first got into college in Japan, and I always thought I would become a salaryman like my classmates. Now, even though I'm doing photography, I want to see the other side of the world career-wise.")
The 1971 series also includes images of objects and memorabilia dating from that year, much of which Kaneyama has bought on eBay. One of his all-American purchases: a 1971 St. Louis Cardinals baseball card of Joe Torre, the recently departed manager of the New York Yankees now making a new home in Los Angeles. Though Kaneyama considers New York his own true home, he sometimes finds it a tough place to work. "It's much easier to take pictures in Japan, and especially Tokyo," he says. "No passersby or police bother me. But I'd love to travel across the U.S. some day, and see America the Beautiful."