Documenting a 'Planet in Peril'
Jeff Hutchens captured the making of the two-day documentary series premiering Oct. 23 on CNN and CNN International.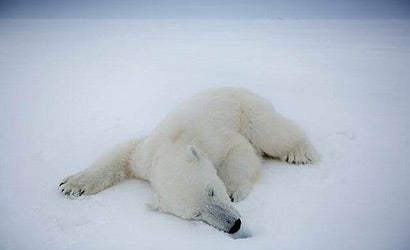 Getty Images Photographer Jeff Hutchens isn't new to traveling the world with his camera. Currently in his late 20s, the Washington, D.C.-based freelance photographer spends an average of eight months out of the year on assignment.
Last February, Getty Images, the agency representing Hutchens, proposed that he join CNN as the still photographer for their "Planet in Peril" documentary series; later that month Hutchens found himself on a plane to Brazil.
The four-hour documentary series "Planet in Peril" deals with global issues effecting people around the world. From global warming melting ice in Greenland to the rapidly increasing population in India and China to poachers causing the extinction of entire species in Africa, CNN set out to bring attention to Earth's threatening environmental issues and hopefully spur action.
Working with CNN Anchor Anderson Cooper, Animal Planet's Jeff Corwin, and CNN Chief Medical Correspondent Sanjay Gupta, along with a pair of videographers and producers, the group traveled to 13 countries on five continents over the course of six months. While the same reporters and crew didn't make it to all 13 countries, Hutchens traveled with the group to all but Greenland and the Carteret Islands.
With only a few days to prepare before the first leg of the trip, Hutchens relied on his past experience to get things together for their journey to Brazil. After meeting with CNN in New York, he quickly returned to D.C. to pick up a last-minute journalist visa for entry into Brazil before flying to Miami a few days later to meet up with the rest of the crew at the airport.
Living conditions in Brazil were anything but glamorous; luckily Hutchens knew what to expect and had brought a hammock along on the trip. It wasn't only the living conditions that made things uncomfortable. While in the South American country, Hutchens picked up a parasite that took four doctors and two and a half months to get rid of.
Despite the difficult living conditions, Hutchens loved the free reign that CNN gave him to work the way he felt most comfortable. "I just really loved the creative freedom that I was given on this project," he said. "That's what really makes a photographer happy, no matter what the conditions are."
Hutchens's hammock came in handy several times when staying in remote areas, including while traveling in the central African country of Chad. "For a few nights, the places we had to sleep were so foul in some ways that I ended up stringing up a hammock between two land cruisers," he said.
The crew slept in a variety of environments depending on location. From living in tents in Madagascar to a plush luxury hotel in Bangkok, after long tiring days, Hutchens found a way to sleep just about anywhere.
With breaks several weeks long between some shoots, Hutchens was able to continue working for other clients. Occasionally he would stay abroad after the rest of the crew returned home. All told Hutchens spent approximately 74 days shooting and traveling with CNN from when he began the project in February until its completion in late July.
Of all the places Hutchens traveled to while working on the project, his fondest memory came from Alaska. "I got to hold a baby polar bear which is probably the coolest thing I've ever done," he said. "I was holding this 25 pound baby polar bear that basically started snoring in my arms."
Hutchens said that working on the project really opened up his eyes to the horrific conditions facing some parts of our planet. One part of the project focused on the effect of pollution in countries such as China. He said that one woman the group spoke to was a widow whose husband died while living in a "cancer village," which was polluted by a Chinese mine. "It can be fairly sobering to see those things personalized," Hutchens said. "Any time that you see any level of human-controlled suffering, it's always hard and it always hits you in some way."
Hutchens said one of the biggest crises he witnessed was the shortage of water in central Africa. "It's disturbing in general to see global impact on a very practical level and to see very distinctly, areas that are being absolutely affected by it," He said. "The biggest thing was in central Africa, really looking at the water shortage there in general and how different climactic factors are effecting that. To see how people are trying to cope with that."
"Planet in Peril" airs Tuesday, October 23 and Wednesday, October 24 at 9PM ET.