Columbia Announces 2008 Pulitzer Prizes
Adrees Latif of Reuters and Preston Gannaway of The Concord Monitor took this year's photo Pulitzers.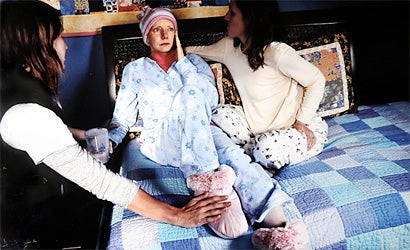 Adrees Latif, a Reuters photographer based in Bangkok, and Preston Gannaway, a photojournalist for The Concord Monitor in New Hampshire were announced today as recipients of Pulitzer Prizes in photography.
Latif won the Breaking News Photography Pulitzer for his September 27 photograph of Japanese video journalist Kenji Nagai, captured moments before Nagai was shot during a protest in Yangon, Myanmar. As declared by the Pulitzer Board, the award went to Latif "for his dramatic photograph of a Japanese videographer, sprawled on the pavement, fatally wounded during a street demonstration in Myanmar."
The winning image was featured on September 28 by news media outlets around the world. In a Reuters blog entry, Latif writes of the image's impact in his subject's home country; "Mourners at Nagai's funeral in Japan clutched the picture, which played a role in the public outrage that prompted Tokyo to scale back aid to the ruling military junta."
Gannaway's award was in the Feature Photography category. Also recognized in NPPA's Best of Photojournalism contest in 2007 for her picture story, "Remember Me," Gannaway was awarded the Pulitzer "for her intimate chronicle of a family coping with a parent's terminal illness."
| | |
| --- | --- |
| | |
| Photo by Preston Gannaway/The Concord Monitor | |
| In this Pulitzer Prize winning image, Carolynne St. Pierre, stricken with liver cancer, is surrounded by loved ones in her home on January 13, 2007. | |
The story documented Carolynne St. Pierre's final months with her family while losing her fight with cancer. Gannaway continued working with St. Pierre's family even after her subject's death on February 10, 2007.
Finalists for the Breaking News Photography Pulitzer included Mahmud Hams of Agence France-Presse for his picture of a missile in mid-air, falling on a target in the Gaza Strip, and The Los Angeles Times Staff for its documentation of the California wildfires.
Feature Photography finalists were David Guttenfelder of the Associated Press for his photo story documenting the lives of children affected by the herbicide Agent Orange in Vietnam, and Mona Reeder of The Dallas Morning News for her picture story, "The Bottom Line," focusing on Texans living in poverty.
Liza Gross of The Miami Herald, Dan Habib of The Concord Monitor, Naomi Halperin of The Morning Call, Michelle McNally of The New York Times, and Zach Ryall of the Austin American-Statesman served as the contest's judges. Because of Habib's affiliation with The Concord Monitor, he abstained from voting in the feature category.
Though the 92nd annual Pulitzer Prizes were announced today at Columbia University, Latif and Gannaway will claim their awards along with other recipients at a luncheon on Thursday, May 29 in New York City.