Collodion Soldiers
Using a 19th century photographic process, Ellen Susan takes a close look at our nation's modern warriors.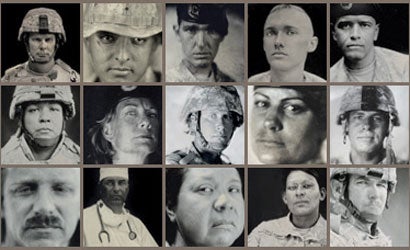 Many enduring images of soldiers in the American Civil War were made using one of photography's earliest methods, the collodion wet-plate process, wherein the relatively long exposure times (up to minutes per sitting) and the highly detailed renditions had a way of making the subjects appear frozen in time. It is this sense of otherworldly timelessness that compelled photographer Ellen Susan to use the collodion process on contemporary subjects — soldiers fighting the U.S. wars in Iraq and Afghanistan.
In her studio in Savannah, Georgia, Susan is shooting a series of portraits of soldiers for an exhibition and book project, as described at soldierportraits.com. "All soldiers who want to be photographed will be," she says in the site's casting call. "The only requirements are three and a half hours of your time at my studio in Savannah, and the ability to sit very still for up to 30 seconds. You'll receive a unique, one-of-a-kind photograph to take with you when you leave." Many hauntingly solemn portraits, with soldiers' written comments, appear on the site (see slideshow).
Susan says the project took shape after she and her husband, journalist Rob Walker, moved to Savannah last year and found themselves surrounded by soldiers from nearby Fort Stewart and the Hunter Army Airfield. "I started seeing soldiers in uniform at the grocery store," she recalls. "And I read that many members of the 3rd Infantry Division were being deployed to Iraq for the third time. This was startling. The kid in front of us in line at the Best Buy was probably on his way back to Iraq. And looking into the face — often impossibly fresh and young — of someone like that and connecting that face to what we hear happens there was a big change for me in the way I thought about soldiers, and I figured I wanted to make that concrete."
Susan had already begun experimenting with the notoriously arduous collodion process. "I always loved looking at photographs from the wet-plate era, but I didn't understand what made them look the way they do," she says. "When I realized that some contemporary photographers were practicing it, I started seeking out their work. What really impressed and excited me were not the prints but the hard images — the ambrotypes and tintypes. They are fantastic physical objects."
She says the Civil-War-era process lends itself to her modern subjects: "First, the process is primarily sensitive to ultra-violet light, and that means that tones are rendered in a way that is different from standard silver processes. Second, the plates show a great deal of grainless detail. And probably most important is the necessarily long exposures (5 to 30 seconds), which cause the subject to engage with the picture-making in a fairly intense way."
Susan describes the technique as a labor of love. "Though the process is arduous, incredibly messy, expensive, hazardous, and the results can be unpredictable, it's more enjoyable than other methods of photography to me," she explains. "Being responsible for every aspect of the picture-making process — from cutting and filing the glass, to mixing bulk chemicals, pouring the plate, and final varnish and finish — is a very satisfying experience. When it goes well — which it often doesn't."
Among future plans for the project is an exhibition at the New Orleans Photo Alliance and a possible book. But Susan says her main goal is simply to present the soldiers as individuals. "I wonder who that person is and what their life is like," she says. "What I'm hoping is that people will take a good, long look at who each one of these individuals are — many of whom are making repeated trips to Iraq."
– This article originally appeared on American Photo's State of the Art blog.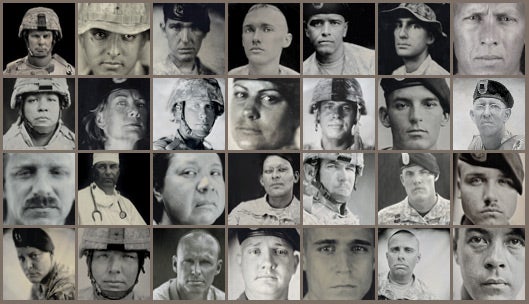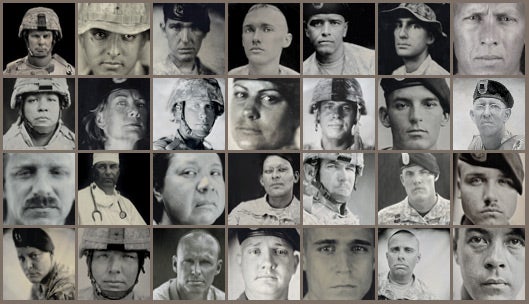 Collodion-Soldiers-Ellen-Susan-s-portraits-of-sol
Ellen Susan's portraits of soldiers can be seen at soldierportraits.com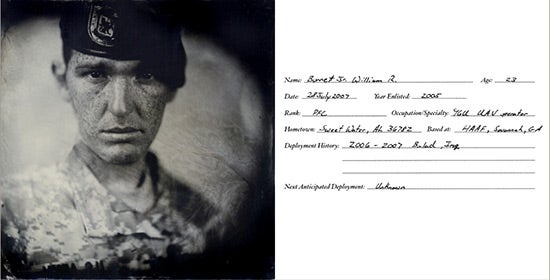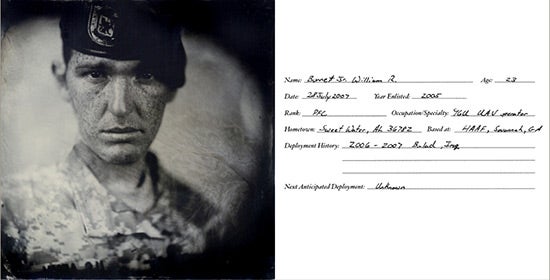 Collodion-Soldiers-PFC-William-Burnett
PFC William Burnett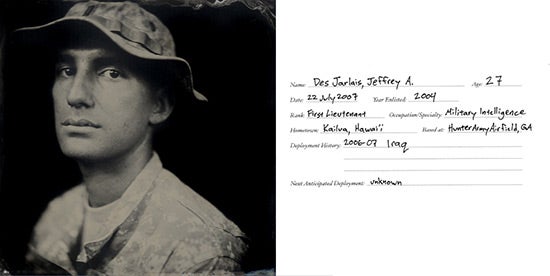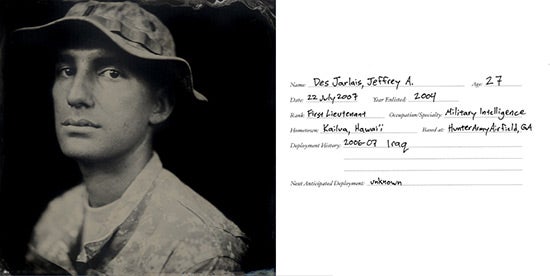 Collodion-Soldiers-1LT-Jeffrey-Des-Jarlais
1LT Jeffrey Des Jarlais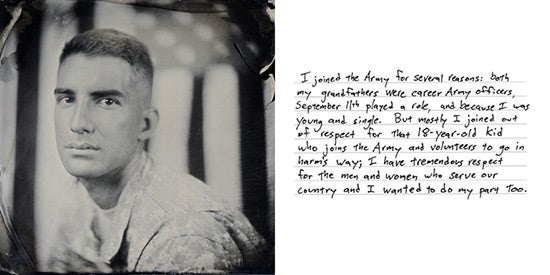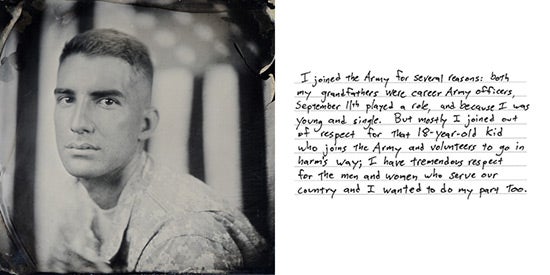 Collodion-Soldiers-1LT-Jeffrey-Des-Jarlais
1LT Jeffrey Des Jarlais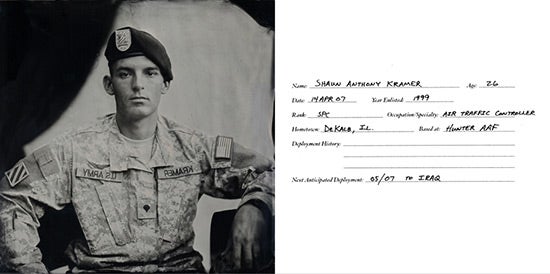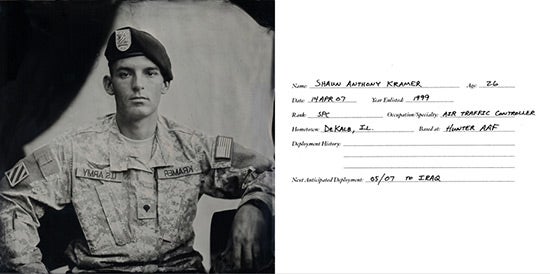 Collodion-Soldiers-SPC-Shaun-Kramer
SPC Shaun Kramer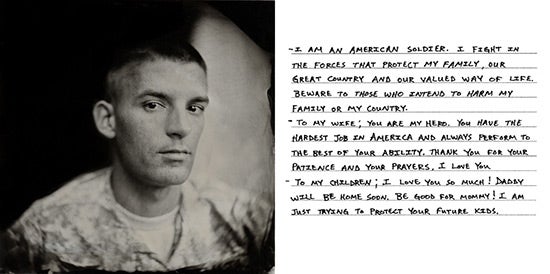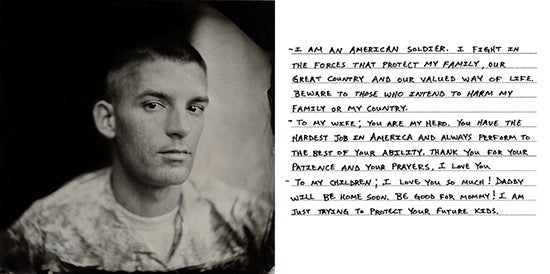 Collodion-Soldiers-SPC-Shaun-Kramer
SPC Shaun Kramer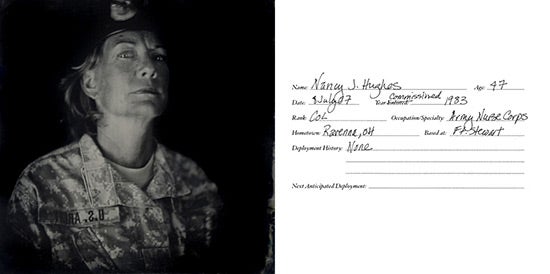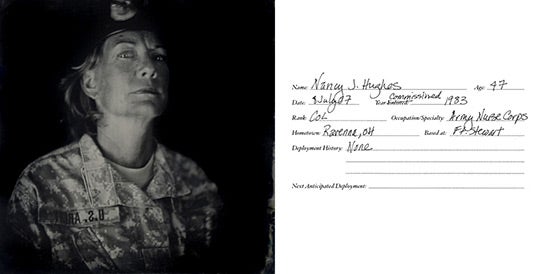 Collodion-Soldiers-COL-Nancy-Hughes
COL Nancy Hughes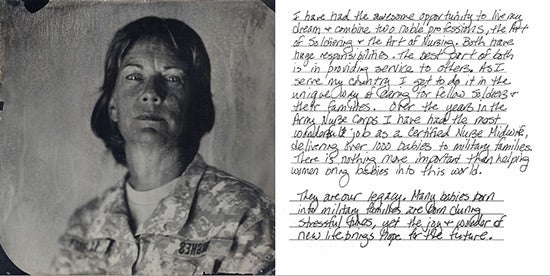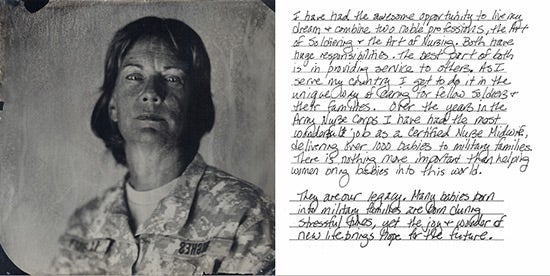 Collodion-Soldiers-COL-Nancy-Hughes
COL Nancy Hughes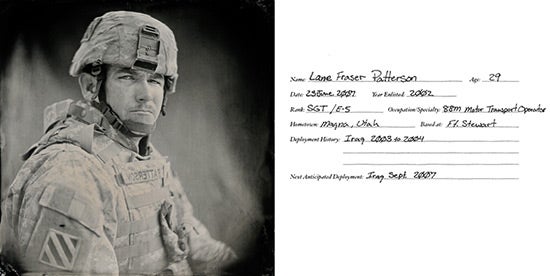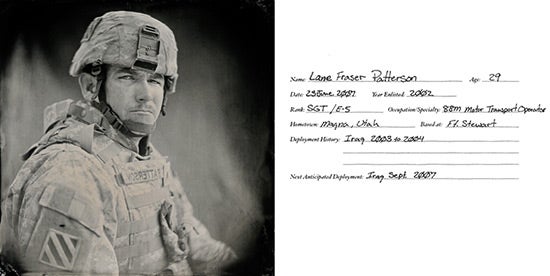 Collodion-Soldiers-SGT-Lane-Patterson
SGT Lane Patterson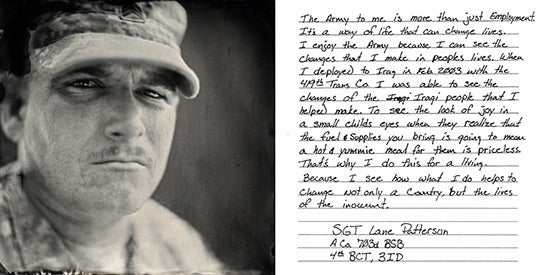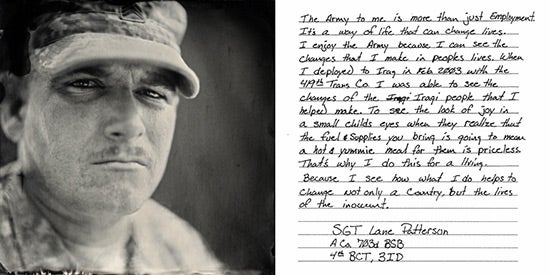 Collodion-Soldiers-SGT-Lane-Patterson
SGT Lane Patterson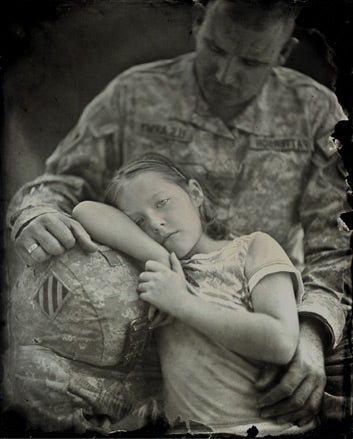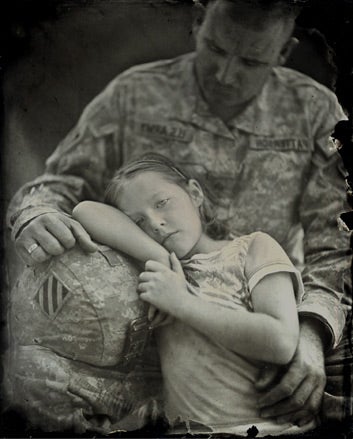 Collodion-Soldiers-SGT-Lane-Patterson-and-Samanth
SGT Lane Patterson and Samantha Patterson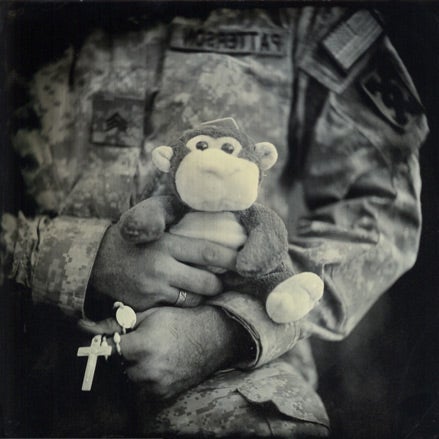 Collodion-Soldiers-SGT-Lane-Patterson-and-the-Luc
SGT Lane Patterson and the Lucky Monkey