Celebrating Photographic Storytelling
Nearly 400 photo editors, industry professionals, and photographers attended National Geographic's 2nd annual seminar.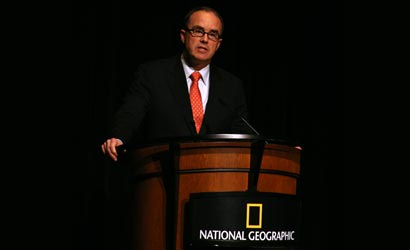 National Geographic has every right to be proud of itself — and specifically its photos.
But last Thursday's seminar at the National Geographic building in Washington, D.C. was not just an occasion for the organization to pat itself on the back. The one-day event brought in photographers from far outside the magazine's photojournalistic focus and even highlighted German competitor Geo magazine.
"This day is for those who love the art, craft, and unique narrative form that is photography," explained National Geographic's Director of Photography David Griffin, who helped orchestrate the seminar.
National Geographic brought in nearly 400 photo editors, industry professionals, and professional photographers, many of whom have worked with National Geographic, for the free seminar to celebrate photographic storytelling.
Conveniently, it also proved an ideal place to unveil photographer and editor Nick Nichols' new photography festival in his hometown of Charlottesville, Virginia.
In the day's final announcement, Nichols invited the crowd to attend the Festival of the Photograph, June 7 to 9. The event will include exhibitions by Sally Mann and William Albert Allard, an interview by Alex Chadwick with Eugene Richards, as well as workshops, and, of course, "two monster parties." [www.festivalofthephotograph.com]
Nichols also entreated the audience to nominate photographers to be included in the show, which will focus on photojournalism. And although Perpignan Photo Festival's mastermind Jean-Francois Leroy "will come and anoint us," Nichols joked, he does not pretend his festival will be at the same level as the revered French festival, although some may call it the "redneck Perpignan."
By and large, though, the National Geographic seminar was simply a chance to see impressive projects by top-notch photographers.
Edward Burtynsky's two series on manufactured landscapes and China's urbanization impress on several levels: vibrant colors, incredible detail, and sheer size. His wall-size, medium-format images of vast tailings fields or chicken processing plants the size of small cities discuss the way humans reshape our natural landscapes and hint at the destruction our unchecked expansion can wreak.
"We live a life that is so disconnected from the place it arrives from," he explained. "I'm trying to bring those worlds back into focus."
NPR's Day to Day host Alex Chadwick also conducted an "Inside the Photographer's Studio" interview with VII photographer James Nachtwey, whose story on military medics ran in the December issue of National Geographic.
Drawn out of his infamous reticence by Chadwick, Nachtwey, who is known for his deep dedication to his subjects, said he had even more of a stake in this story than usual because he had been "on the receiving end" of military medicine. In 2003 he was wounded in a grenade attack on a unit he was covering in Baghdad. Nachtwey's Time magazine colleague, writer Michael Weisskopf, lost most of his arm while reaching for the grenade, an heroic act many attribute with saving the lives of everyone riding in the Humvee at the time.
A welcome bit of levity among such serious issues came from photographer Duane Michals. Michals is a flurry of abstract declarative sentences and shockingly dirty jokes stuffed tightly into the body of a sprightly 75-year-old — so tightly that he seems helpless to stop the thoughts pouring out of him in a steady stream.
A sprinkling of his sage thoughts: "We are an event in the universe," "The great joy is that I'm not you and you're not me," "I can't stand people who don't have opinions," "If you don't feel anything it's bullshit," and "Pictures lie!"
Oh, and he has a book coming out, Michals suddenly remembered. It's called Photo Follies: How Photography Lost its Virginity on the Way to the Bank (Steidl).
Other speakers included commercial photographer Jill Greenberg, National Geographic photographer Joel Sartore (filling in for Roy DeCarava), and Ruth Eichhorn and Christiane Breustedt with their tribute to 30 years of Geo magazine.
To highlight the revolutionary work included in the magazine's recent book, 30 Years of Geo, the German Geo director of photography and Geo International editor in chief showed photo stories from Geo including ones by Marc Steinmetz, Ingo Arndt, Peter Granser, George Steinmetz, and a very young Nichols and Nachtwey.
Thursday's seminar also included short memorial videos for National Geographic photographers Kurt Wentzel and Tom Abercrombie, along with freelance photographer Ed Kashi's photographic flipbook of Iraqi Kurdistan, which was licensed in November to MSNBC through an online auction.
Also speaking to new photographic applications of technology, Mark Lubell, Magnum Photo's New York Bureau Chief, discussed the agency's recent revamping and launch of Magnum in Motion. Next month Magnum is launching a new version of its online player with bigger pictures and more interaction. The player already has brought the agency's multimedia essays to millions of online viewers, and made it easier for those viewers to purchase photographs from the agency.