Better Tomorrows for Rwanda
Photographer Jonathan Torgovnik's work in Rwanda is helping to educate genocide's youngest victims, and making sure we never forget.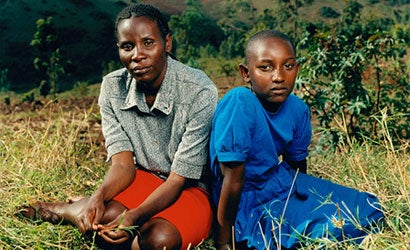 While traveling in Africa with then Newsweek Health Editor Geoffrey Cowley in February of 2006, Newsweek contract photographer Jonathan Torgovnik sat through what he described as the most horrifying interview of his entire career. The journalists met with Margaret, an HIV-positive survivor of the Rwandan Genocide in 1994 who recounted the murder of her entire family and her brutal rape.
"We heard what she went through during the genocide and we were all in tears," Torgovnik said. "She told us the consequences of what she was left with, 12 years after the genocide at the time — with HIV and a child. I thought to myself, wow, this is a crazy story, I wonder how many kids like this are in Rwanda."
After learning that there were roughly 20,000 children of rape living in Rwanda, Torgovnik decided he needed to give a voice to these women and their offspring.
"I think they suffered the most of anyone that went through the genocide, because not only do they need to live with the memories of their families being slaughtered in front of them, but they went through the horrible humiliation of being raped many times," Torgovnik said. "Sixty percent of the women I photographed so far are HIV positive from these rapes."
How You Can HelpDonations to Foundation Rwanda, a 501(c)(3) non-profit organization, are tax deductible, and can change the life of a child forever. It costs only $150 to send a child to boarding school for one year, covering room, board, and educational fees. This may not sound like much, but many parents in Rwanda can't afford to send their children to school. Visit www.foundationrwanda.org for more information or to make a tax-deductible donation.
After completing his assignment for Newsweek, Torgovnik returned to Rwanda and began photographing portraits of rape victims with their children throughout the country. Moved by Margaret's story, Torgovnik also decided to interview and record the women and children he photographed, many of whom were telling their stories in great detail for the first time.
"They want their stories to be told, but not in Rwanda because they are ashamed of what happened and they don't want their story to be exposed, but they want the world to know," Torgovnik said. "I want to try and give a voice to these women and create more awareness about this."
Torgovnik is collaborating with social workers from AVEGA and Survivors Fund, two NGOs (non-governmental organizations) that provide psychological support to the genocide survivors, to locate women willing to tell their story. He said he's photographed 30 women so far and hopes to photograph a total of 50 before his project is complete.
Generally, the children of the rape victims Torgovnik has interviewed are not aware of the circumstances surrounding their births. Still, some community members ridicule these children, accusing them of being children of the enemy, but for their protection their mothers deny it, he said.
Many of the women he spoke to say they had wanted to commit suicide when they found out they were pregnant, and some had planned on killing their children when they were born but could not follow through with infanticide. Torgovnik said that most of the mothers feel ambivalent towards their children.
"They wake up every morning and see these children and it brings back the memories of the genocide," Torgovnik said. "Most of the women I photographed were very very young when this happened; they were 14 and 15 years old. They were just little girls so the trauma is very much connected to these children."
When asked what future they see for their children, Torgovnik said the women were never optimistic because they deal with extreme poverty. If they had the means, all the women said they'd pay for their children to go to school so they can eventually provide for themselves and have a chance at becoming successful.
Primary school in Rwanda is free up to 6th grade, but parents need to provide their uniforms and textbooks, which some are unable to do. Once a child reaches 12 years of age, the cost of a secondary education at a boarding school is about $150 per year, and none of the women Torgovnik spoke to are able to afford tuition. Moved by their dilemma, Torgovnik created Foundation Rwanda to raise the funds required to send these kids to school.
Not only would schooling be beneficial for the children, Torgovnik said it would also enable the women to possibly start a new life without spending all their time caring for the children they never planned to have in the first place.
As a result of some of Torgovnik's early images being published in Stern magazine in Germany, the magazine's readers donated over $130,000 dollars for the education initiative he started.
"I was really touched by how the public in Germany was responding," he said. "It is essential that we try to put as many of these kids in secondary school this year before they fall out of the system."
Because Torgovnik is a working photographer, he's enlisted the help of others to organize fundraising efforts. Foundation Rwanda, a 501(c)(3) non-profit organization, was created in response to the unexpected generosity of Stern readers. Foundation Rwanda plans to use the funds collected to pay for education fees for the next school year with donations to be given directly to the schools.
Although several European publications have already published some of Torgovnik's portraits, they have not yet appeared in the United States. Torgovnik is currently working with New York City based MediaStorm, an online multimedia publication, on producing a multimedia project featuring his portraits and interviews from Rwanda in addition to video captured by a colleague on a recent visit.
MediaStorm founder Brian Storm, the project's executive producer, said Torgovnik's project should be used as a model for similar projects.
"There are a hundred stories like that that we need to execute as a profession in this way, to get people to act, to care, to understand," he said.
Storm said that Torgovnik has played a vital role in the production process.
"He's probably the most organized photographer that I've worked with, just in terms of being very clear about his vision for what the project is, and also having his assets organized in a way that makes sense," Storm said. "There's a very clear presentation layer that's going to evolve out of this project. He's got a very strong vision about what he wants this to be. His vision and his input have been critical all along the way and that will continue until it's done."
Storm isn't the only one recognizing Torgovnik's skill and hard work. The photographer recently received recognition by Getty Images, in the form of a $20,000 grant to continue working on his project in Rwanda. He's also in the running for the National Portrait Gallery (UK) Photographic Portrait Prize. The winner of the £12,000 award will be announced on November 6.
Storm said Torgovnik's ambition is what has led to what can only be described as a successful outcome from his work in Rwanda.
"Here's a guy who basically went off, believed in his own ability to use his skills as a photographer to create awareness and to create change, and he did it," Storm said. "That's the pinnacle of what a photographer can do with their skills, and Jonathan's done it."
Torgovnik will return to Rwanda in December to continue photographing and interviewing rape victims. After completing his project, he hopes to publish a book, feature images and multimedia in a traveling exhibition, and publish images in publications in the United States and abroad. Torgovnik has partnered with Amnesty International to develop education guides featuring his images and testimonies from the rape victims he interviewed. He also hopes to arrange panel discussions and lectures to help raise awareness for Foundation Rwanda.