Barnstorm 2006
Miki Johnson reports from the Eddie Adams workshops.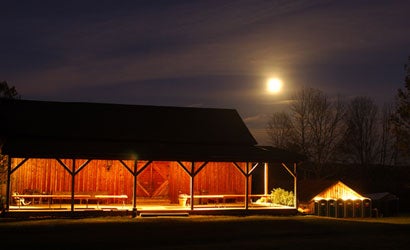 JEFFERSONVILLE, N.Y. — There were tears and laughter and terror and despair and lots of hugging and cheering and standing ovations. And that was only the first night of the 19th Annual Barnstorm workshop.
It turns out, emotions run high when you bring together a couple hundred photojournalists in rural New York to shoot assignments, create presentations, and generally talk about how much they love what they do.
Barnstorm was established 19 years ago by photojournalist Eddie Adams, who is best known for his Vietnam War photo of General Nguyen Ngoc Loan executing a Viet Cong prisoner. Each year it brings in 100 young photojournalists — 50 students and 50 professionals with fewer than three years of experience — to a high-tech, retro-fit barn in upstate New York where they work with and listen to presentations by the country's top shooters.
This year's speakers included Sports Illustrated photographer Bill Frakes, Michele McNally, The New York Times' wave-making new director of photography, and wildly popular commercial and fine art photographer Howard Schatz.
* Slideshow * Barnstorm Website
This year's workshop started out with an emotional presentation by Joe Rosenthal's daughter Anne, asking the group to remember her father as a person, not just as the photographer who took the iconic WWII image of soldiers erecting an American flag over Mt. Suribachi, Iwo Jima. She tearfully told how her dad, who died this August, with failing health in his final years, often debated whether to come to the workshop. Despite his laughable assertion that "I'm not as good as they are," she said she always convinced her father to go anyway, and "he came back a younger man every single time." "He lived as long as he did partly because of this," she said.
A slideshow by Todd Heisler from Denver's Rocky Mountain News also left most of the room with brimming eyes. He spoke through choked-back tears about his Pulitzer Prize-winning story about the Marine detail that notifies families of soldiers killed overseas. The family at the center of the story allowed the reporters to be with them throughout the grieving process, and Heisler at one point found himself in a funeral home with the body of a soldier, his pregnant wife and family, and half an hour of painful silence. "It was the hardest thing I've ever done to lift my camera and make a picture," he admitted.
Another heart-wrenching presentation came from Kim Phuc, the woman who was captured as a naked, napalm-burned girl in Nick Ut's famous Vietnam War photo (Ut, a close friend of Eddie Adams, also attended the workshop). Although her story is a painful one, her message was of forgiveness, and she has delivered it to all 19 Eddie Adams workshops. "I could never say 'no' to Eddie," she said.
Phuc herself was brought to tears by the presentation following hers, by freelance photographer Kristen Ashburn. Phuc, with the creation of her Kim Foundation, has become an advocate for children, so she was understandably moved by Ashburn's images of Romanian children who had been treated like animals and Zimbabwean children orphaned by AIDS.
Many speakers also led one of the ten color-coded student teams, who shoot for part of each day in nearby towns. Each team then creates a slideshow to present and be judged at the end of the workshop.
This year, teams could also put together multimedia presentations from audio they gathered while shooting. There were only enough Marantz recorders for one or two students from each team, and, not surprisingly, they were in high demand. Everyone seemed to recognize that photojournalists, especially the young ones, are increasingly being expected to gather audio and video as well as stills for resource-strapped publications.
Multimedia advocate Brian Storm, founder of MediaStorm, demonstrated several pieces from his multimedia storytelling showcase. One, called "1976," is a colorful After Effects bonanza with punchy music which he describes as a viral story to bring people in who wouldn't normally be interested in the difficult photojournalism pieces like "Kingsley's Crossing," about a Cameroon man's painful journey to emigrate to France. "1976" got picked up by a Russian blog and tripled MediaStorm's traffic for three weeks.
Another multimedia guru, David Leeson, has recently gone back to shooting stills with a project of 30 days of self-portraits, but he will always be known as the proponent of photographers using video cameras to gather moving and still images with high quality screen grabs. As a photographer at The Dallas Morning News he was asked to bring video to the newsroom, and he asked photographers to embrace the technology, because "if we don't do it and define the ethics of it, someone else will." He was also exuberant because Sony is releasing an affordable HVR-Z1U camera that is progressive, meaning frames are separate rather than run together, which makes grabs much cleaner. Even the cameras his newsroom uses now, Leeson says, can produce 67-meg images with over 200 dpi resolution.
There was also a strong emphasis on bringing integrity back to photojournalism. Santiago Lyon, the Associated Press director of photography, reminded the students that their name is their calling card and once it was attached to an unethical photo it will be permanently tarnished. He pointed out that the AP had eliminated more than 200 photos taken by Adnan Hajj, the photographer uncovered in August for turning in an obviously manipulated photo to competing agency Reuters, even though none appeared to have been manipulated. Lyon was obviously perturbed by the way bloggers started jumping on photos after that incident. "That was not a fun week for me," he said. AP looked into every accusation from blogs and elsewhere about photo manipulation but found no wrongdoing among its photographers, he said.
Lyon also discussed ways to guard against credibility-crumbling photo work. He has been in contact with Dr. Hani Farid, who developed software that detects discrepancies in pixel patterns, which can help detect photo manipulation. Already the software has been shown to be less than 100% effective, though, so Lyon reiterates that ethically photography ultimately must be a human endeavor. His advice is simple, but bears repeating: "You have to train people" and "don't be stupid."
This is the second year Barnstorm has been entirely digital, and companies are still vying for the chance to introduce this captive audience to their products. Apple this year brought in a piece of software designed by an Apple staffer to automate the process of extracting files from memory cards. They don't presently have plans to market it, but it couldn't have hurt their image with the influential photo group. Students and advisors were also given the choice to use Adobe's Lightroom, Camera Bits' Photo Mechanic, Apple's Aperture, or Microsoft's iView to view and edit photos. No single software seemed to dominate, and several participants said there were still significant kinks to work out in all of them.
Nikon, the workshop's main sponsor, also tried to make a few last minute conversions among photographers without too much gear yet, providing D2H and D2Hs cameras along with lenses to any students who wanted them.