Assessing Arles
A photo festival aficionado gives France's intimate Rencontres a once over.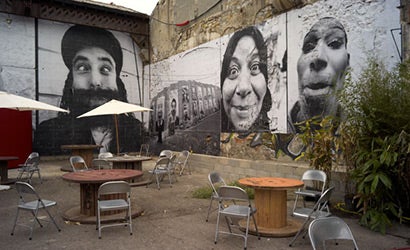 Photographer and writer Roger Hicks has been attending the Rencontres d'Arles photography festival with fellow photographer (and his wife) Frances Schultz off and on for the last 15 years or so, always on their 1978 BMW R100RS motorcycle (much easier to park). Over the years the same bike has regularly taken them to Paris for Mois de la Photo, as well as photo events in Germany, Switzerland, and the Czech Republic. Traveling light with Leicas
I've seen my fair share of self-consciously "fine-art" photography, especially at Arles, and quite honestly you're lucky if one in ten of the more pretentious photographers is worth looking at. For example, out of the 15 in the Discoveries exhibition, half were simply dreadful (the "artists' statements" told you all you needed to know); one was a good idea for a magazine article, but distinctly weak as an exhibition (Jennifer Allora and Guillermo Calzadilla); and most of the others were excessively intellectual, with a good idea but variable (usually poor) execution (though Jeff Chien-Hsing Liao's "Habitat 7" might be interesting if you've never been to New York).
Both at the ateliers and back in the city, all the usual suspects for bad fine-art photography were there: the photographers' drug addict friends presented "sympathetically" (as sympathetically as any freak show); a large number of people who appeared uncommonly proud of their genitals; photographers who found they got wobbly pictures if they hand-held their cameras too long and thought they had invented a new art form; those who thought that a sharp, large-format image was all you needed; and the usual rich twits such as Pannonica de Koenigswarter, whose tedious Polaroid snaps had the sole merit of being of famous jazz musicians.
But with the kind of intrepid forward motion necessary at these large festivals, I immediately afterwards encounter two superb exhibitions — one of Mario Giacomelli's soft-focus images, reminiscent of 18th century paintings but deliberately eschewing the sharpness for which Boucher and his ilk strove, and another of Marilyn Bridges's frankly jokey but still wonderful doll pictures — alongside a rather indifferent Franco Fontana exhibition. You just can't tell what you are going to find. At Off Off at the Convent, a Parisian jeweler, Didier Conchonnet, exhibited a stunning sequence of bilaterally reflected images of the natural world, in which you could see statues, masks, the faces of demons and gods.
Yet even at those exhibitions that were for the most part dire, I occasionally found a few pictures worth seeing. In the huge Alberto Garcia-Alix show of well over a hundred generally unrelated pictures, there were a couple of brilliant still-lifes, one or two beautiful night shots, and a stunning nude on a table from Budapest. Of course there's no disputing taste, but still, it is hard to see the majority of Garcia-Alix's work as being of much interest to anyone except a self-selecting, self-regarding, and self-perpetuating fine-art clique.
There were also surprising disappointments. The pictures in the Raghu Rai exhibition were hopelessly over-enlarged, and the fact that the black-and-whites were inkjets, not silver halide prints, did them no favors. In fact, over-enlargement was a besetting problem at many exhibitions. It's all very well to say that big prints need to be looked at from further away — but when you need to come in close to read the captions, the pictures fall apart.
Then there's the stuff that's just plain weird, such as reinterpretations of everyday pictures: family snaps, vacation pictures of the same woman across a decade or more, formal portraits of policemen. Photographs of the manic electric wiring in India's streets. A lightly comprehensible exhibition at the local Communist Party headquarters, simultaneously mocking and making propaganda. Early 20th century Indian hand-colored portraits (many of them execrable, it must be said). A narcissistic collection of pictures by Umrao Singh Sher-Gil (1870-1954) who, although clearly technically competent, appeared to have some difficulty in finding anything interesting to photograph besides himself.
In Arles, the exhibition spaces are everywhere: galleries, churches, cellars (there are some incredibly fine centuries-old cellars there), shops, restaurants, and public buildings. The trouble is that you soon start drowning in pictures. Mercifully I've discovered a few reliable life rafts. Arles itself is extremely photogenic, and the light is as gorgeous as when Van Gogh fell in love with it more than a century ago. In addition the city is home to some of the finest and most original graffiti in the world, quite apart from the endless fly-posted advertisements for exhibitions.
Sooner or later, though, my time at Arles comes down to a table at a sidewalk café, a pitcher of wine, and a little people watching. There are hundreds of photographers, of course, but there are also the inevitable tour groups. Following their leaders who bear aloft group numbers painted on ping-pong paddles, they avidly suck up predigested culture and history: Look, here is the Yellow House that Van Gogh painted, here is the hotel in which Henry James stayed (unless it was the one next door), here is the Roman arena from the 1st century B.C. Wow, Myrtle, that church is gen-u-wine 12th century; gee, Elmer, that obelisk is from the actual Roman circus.
Then, as I finish my wine and get ready to head for the next exhibition, I can't help but think: Look, here's Raghu Rai, look, here's Magnum, look, Mom, here I am in Arles.