Olympus OM-D E-M10: At Last, An OM-D For Everyone! [Sponsored Post]
OM-D E-M10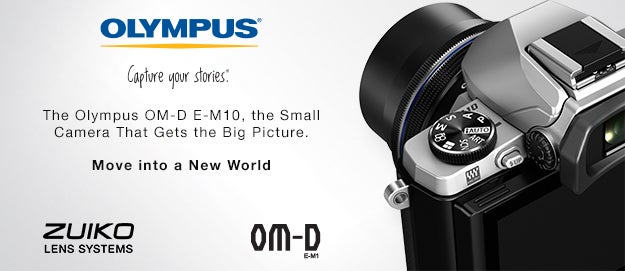 Now There Are Three. And All Deliver Awesome Image Quality
The award-winning line of Olympus OM-D Micro Four Thirds cameras is acclaimed among pros and serious shooters as the ultimate compact mirrorless system. The original high-tech landmark OM-D E-M5, and the state-of-the-art flagship OM-D E-M1 established an unmatched legacy of breathtaking image quality, amazing speed and responsiveness, brilliant viewing, and compact, ergonomic form factors that provide a uniquely satisfying picture-taking experience. The newest member of the family is the OM-D E-M10, a broad-spectrum, high-value, easy-to-use ultra-compact camera to delight everyone from emerging photographers to serious enthusiasts. Its posh, ultra-slim metal body is a masterpiece of understated functional design. And like its illustrious siblings it captures images and Full HD 1080p videos of astonishing sharpness and quality thanks to its state-of-the-art, hi-res 16-megapixel Live MOS sensor combined with the latest, most advanced TruePic VII image processor. Its awesome image processing power also enables such advanced features as a big, bright ultra-hi-res 1.44M-dot electronic viewfinder, blazing 8 frames-per-sec burst rate, 81-point FAST AF (autofocus), and built-in Wi-Fi for easy sharing and remote shooting via smart phones.
Express your creativity with incomparable Olympus lenses
Perhaps the most important feature of the OM-D E-M10 for emerging photographers and enthusiasts is that it's fully compatible with the extensive Olympus line of 15 advanced, high-performance, digitally optimized M. Zuiko Micro Four Thirds System lenses covering focal lengths 9mm (18mm equivalent) to 300mm (600mm equivalent) and including 8 zooms and 7 prime lenses. All these pro-caliber optics provide inherently more efficient light-gathering power for superior image quality.
With its ultra-compact metal body paired with the new "world's slimmest" M. Zuiko Digital 14-42mm f/3.5-5.6 EZ electronic zoom lens *(sold separately), the E-M10 measures an astonishingly compact 2-1/2 inches front to back! And when combined with the latest high speed M. Zuiko Digital 25mm f/1.8 M. Zuiko lens (50mm equivalent) it delivers beautifully soft backgrounds for capturing compelling portraits and pictorial effects, enhanced low-light capability, plus virtually silent auto-focusing. All M. Zuiko lenses work with the EM-10's 3-axis VCM In-body Image Stabilization System to eliminates blur due to handheld camera shake, allowing you to capture crisp, detailed still images and smooth pro-caliber videos.
Olympus OM-D E-M10: Take Your Photography To The Next Level
*Sold separately