Vincent Laforet photographs a glittering New York City from 7,500 Feet
Amazing aerial night photos of New York.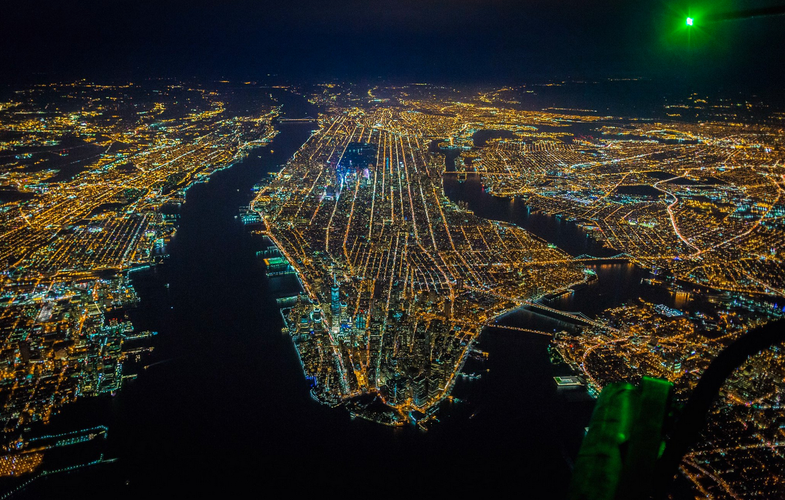 Leaning out of a helicopter 7,500 feet above New York City with a few thousands dollars worth of gear isn't a risk that most photographers would be willing to take, but Vincent Laforet feels right at home in a heli.
"There's just simply nothing quite like leaning out of that chopper over the sea of darkness and light, held in only by a full body harness," Laforet writes about his recent experience shooting the city from above.
Although Laforet has photographed Gotham City from helicopter more than 50 times in the last 15 years, these new nighttime pictures (originally shot for Men's Health Magazine) are images Laforet says he has wanted to make since he was a teen. It's only been in the last few years that camera technology has gotten powerful enough to accurately capture New York City at night.
To make the incredible photos, the helicopter Laforet was in flew to the unusually high altitude of 7,500 feet—"we were actually flying above all the airline traffic landing at JFK, LGA and Newark airports," Laforet writes. He shot using a Canon 1DX and a Mamiya Leaf Credo 50 MP back with a variety of f/1.2, f/2.8 and tilt-shift lenses.
See more of Laforet's wild nighttime aerial shots here. Watch the video below by David Geffin to see a bit of the behind the scenes action.
Gotham From Above from David Geffin on Vimeo.