Behind The Scenes: Photographing the Sports Illustrated World Cup Issue
Alexis Cuarezma's day with the USMNT was no easy goal.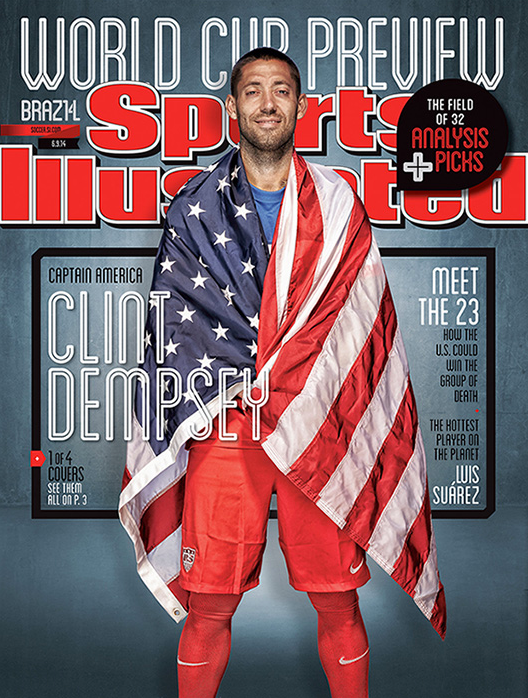 When Brad Smith, the Director of Photography at Sports Illustrated, contacted Alexis Cuarezma about shooting the United States Men's National Soccer Team (USMNT) for the world cup issue, the answer was an immediate "absolutely!"
Cuarezma quickly went to scout out the location of the shoot in Stanford, and found that there would be some limitations he must work around. To start, the location had no shade. Secondly, there was only one power outlet for the entire shoot. This initial check already provided many obstacles for Cuarezma to work around.
Cuarezma's solution to the issue was to use battery packs, ensuring that power would not be a problem during the shoot. He used the Profoto B4 packs and B1 mono heads, allowing him to access all the light modifiers.
While the shoot was already complex with so many subjects coming through, Cuarezma wanted to add more dimensions to his process. To do this, he created 3 different sets. Since each set was different, he used a different camera and lens pair for each.
His final choices: the Canon 1D X with the Canon 24-05mm F4.0L IS lens for the first set, a Canon 5D Mark II with a Canon 24-70mm 2.8L lens for the second, and a combination of both for the cover shot.
Once Cuarezma visualized the shoot, he began creating lists and diagrams to help him gather the right equipment. The right lighting equipment turned out to include 20 heads (Profotos B4 and B2 packs) ringing up at over $100,000 total.
Cuarezma decided on 5 different "looks," and shot each player with the 5 various setups of lighting. This allowed for a great variation of shots and moods, and highlighted the players in different ways.
Through issues with triggers, players arriving early, a lack of outlets, and a power pack going up in smoke, Cuarezma was able to come out on top and finish the shoot over just two days.
The final result was a cover shot of Clint Dempsey and 6-page spread in _Sports Illustrated, _making all of the ups and downs of the shoot more than worth it.
[From: Alexis Cuarezma]