Texas Park Labels Working Photographers as Trespassers
The privately-owned park says visitors have been complaining about photographers blocking paths and using elaborate props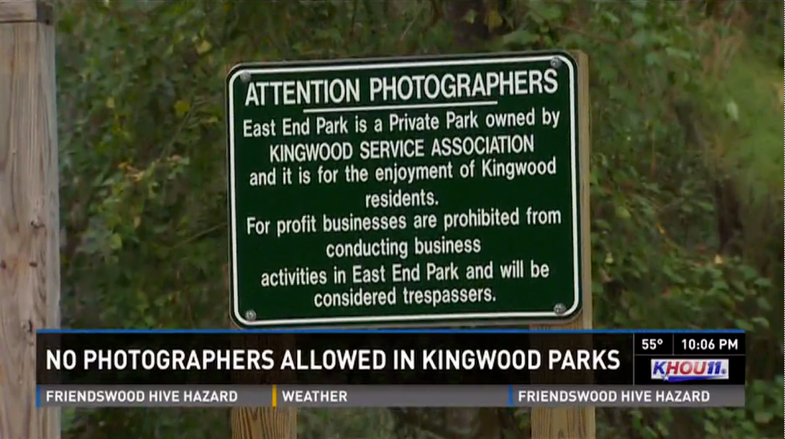 If you visited a park in the past couple months, you've probably seen at least one photography session going on. When the leaves start changing, people head out in droves to get their photos done before it gets too cold and parks are one of the most popular destinations. One Texas park is making the news because of a sign specifically banning professional photographers from doing business on the premises.
As you can see in the news report, the park is privately owned, which means they're within their right to ban working photographers from doing business on the grounds. And this park certainly isn't alone in doing so. I've been asked to leave Bryant Park in NYC on a few occasions. In fact, even many public parks require a permit and a fee if you want to use the facilities for professional photography. They're just not enforced very often.
The reason the Texas park gives for the ban is that photographers were bringing elaborate props and blocking pathways, causing some other guests to complain.
While I certainly think it's a good thing for a park to have photographers see it as desireable, I do understand the outlook of the park as well. The park is spending plenty of money to make the scenery appealing, then a photographer comes in and uses it to make money and the park doesn't get a cut. There could also be some insurance issues if someone gets hurt and the photographer doesn't have his or her insurance in order.
So, what's the solution? Many might suggest to just let photographers do what they do in so many parks all around the country. Others parks have implemented permit systems that allow them to get a cut of the money and still allow photographers to conduct business.
The other tricky part about this is enforcement. With so many advanced amateurs using high-end gear, how would park officials even know if someone is "working" rather than just taking some photos for a friendly family?
What is the right call?
From: Reddit