[UPDATED] Photographer's Image Ends Up Uncredited on P. Diddy's Instagram Feed, Internet Cries Foul
The rapper reportedly posted a photo for his 4 million followers without attribution from the popular account of LA-based @cole_younger_.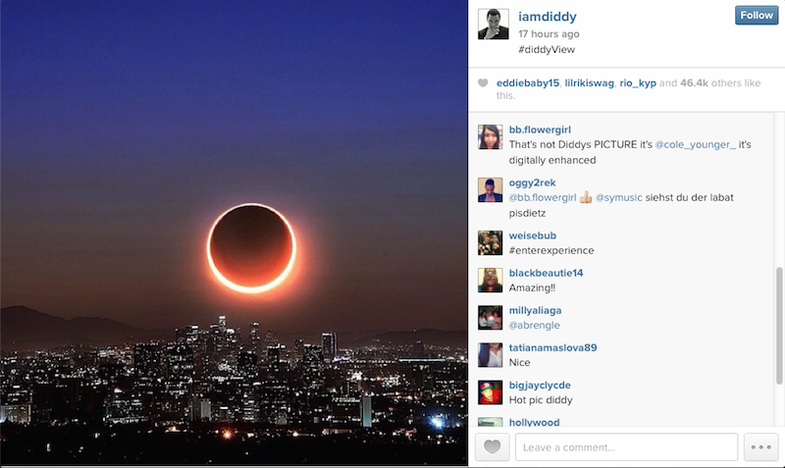 Update, 8/27/2014: @cole_youner responded with a comment: "It upsets me because I have such a passion for my work," the photographer tells Pop Photo in an email, pointing out a similar incident from one week ago when Snoop Dogg also used one of his images on Instagram without attribution. "I consider both of them very creative and you think they both would have more insight on the lack of courtesy to give me my due."_
Last night, a photo by photographer @cole_younger_ showed up on the Instagram account belonging to rapper and media mogul Sean "Diddy" Combs (@iamdiddy). Sadly, what wasn't included was proper attribution.
Combs captioned the image in question, a stunning, digitally enhanced eclipse hanging over the LA skyline, with the hashtag "#diddyView," but had not attributed the photographer who claims the rights to the image on his own feed where it was first published two weeks ago.
Combs' post, which is lower resolution than the original and bears the telltale sign of a hasty screengrab and crop — a few-pixel-wide white line along the bottom of the image — has garnered over 46,000 likes and hundreds of comments, many of them calling him out for the alleged infraction of intellectual property rights and the app's terms of service.
Combs has not yet responded, removed or offered to attribute the image, but he has shared several posts with his nearly 4 million followers since the incident, including two straight advertisements for his mid-shelf pineapple-flavored vodka sponsor revealing the account as largely another marketing arm of his commercial brand.
Neither party has responded to a request for comment from Pop Photo at the time of this writing.