AFP Issues Apology For Running Photog's Syria Image For Iraq War
But why wasn't a faked photo submission caught?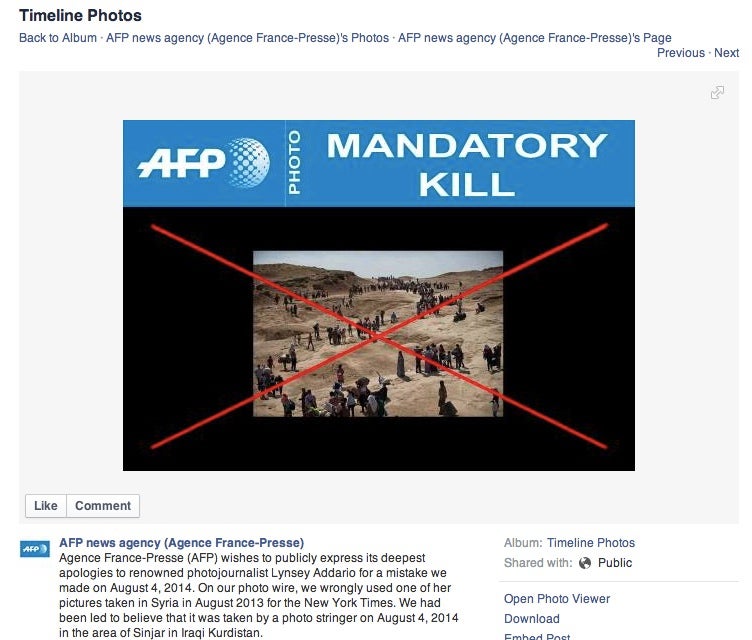 On August 4th, an AFP stringer in Iraq uploaded a low-resolution image of what he claimed Sinjar in Iraqi Kurdistan—and the AFP syndicated it out to its clients across the globe. The problem? The image was stolen from famed photojournalist Lynsey Addario, and was actually taken in Syria in August 2013 for the New York Times. While the AFP ordered a kill on the image and publically apologized, it still raises the question of why this happened int he first place.
On Facebook, the AFP explained the situation, saying:
Addario herself showed up in the comments, and said:
This isn't the first time the AFP has landed in hot water over practices such as this. Late last year photographer Daniel Morel was awarded $1.2 million from Getty and AFP after they accepted work from another photographer that was actually his, and then licensed and sold it down their wire services. Obviously AFP acted far more quickly in the case of Addario's image, but nonetheless it's the same basic problem—someone taking a photojournalist's image, and selling it a major news agency, at which point it gets syndicated.
Hopefully with increased attention, wire services can do more to prevent this happening in the future.
[via Shutterbug]