Golden Hour App Lets You Know When The Light Is At Its Best
A simple app to remind you to go out and shoot during the Golden Hour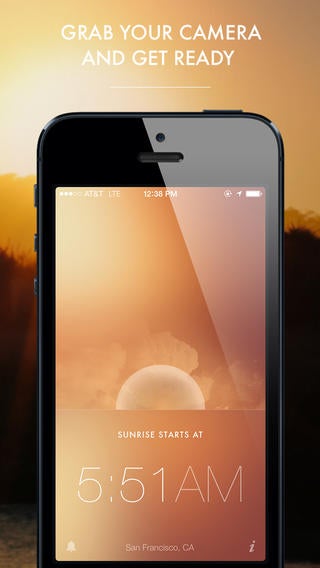 The Golden Hour is sacred for many photographers. That hour after sunrise or before sunset when the sun is low in the sky, and coats everything with a gorgeous, golden, glow. But even though it happens twice a day, timing your shoot right can be a bit tricky to catch the Golden Hour properly. Which is where the Golden Hour by Exposure iPhone app comes into it. This beautifully-designed app will let you know when the next Golden Hour is coming, so you can be sure to be ready.
For a free app, it demonstrates a truly fantastic design—which makes sense when you realize it comes from the same people who made Exposure, an elegant tool for crafting stories around photos. And it can give you alerts at sunrise or sunset, if that's your thing.
While Golden Hour wins major points for design, it still needs some refinement in terms of pure utility according to early reviews. One reviewer claims that the app will only tell you the sunset/sunrise time, not the span of the entire Golden Hour. It simply says "sunrise starts at" or "sunset starts at", which isn't a clear indication of if that's when the sun will hit the horizon, or what. At least it does pull in your location, so it'll be locally appropriate.
But if you want to spend a bit more time rejoicing in the Golden Hour, this is a great way to know when to get out there with your camera, and enjoy it.
[via SLRLounge]