Commercial Photographer Clint Davis Assembles an Epic Promotional Mailer
What would you do to make your promo stand out from a crowd?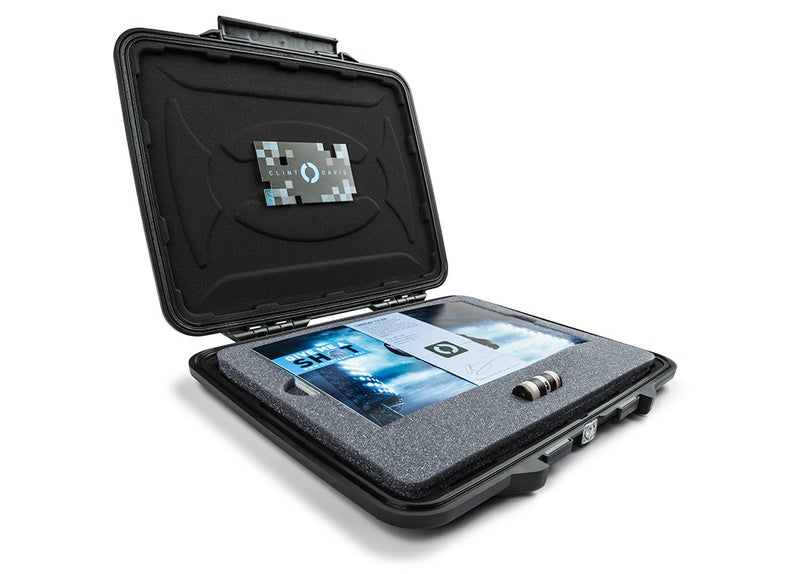 Getting your name out there as a photographer can be hard work—especially if you're a commercial photog aimed at large company clients. Which is why photographer Clint Davis went well above and beyond the usual promo mailer, instead designing and building one of the most incredible peices of self promotion that we've ever seen.
In order to make his work stand out from other unsolicited mailers, Davis designed an incredible package he called "Give Me A Shot". Each mailer was inside a fully functional, custom painted, Pelican 1065 iPad case, stuffed with a custom foam insert. Each package had a hand chosen set of photos for that individual, with a "bullet-hole" drilled through the entire stack of images. Accompanying that was a bullet shell hand painted to look like a Canon 70-200L lens, hence the "shot" pun, as well as a business card, and a hand-written note.
According to Davis, each mailer cost him around $140, which makes this a $7,000 investment to send out 50 of these handmade works of art. And if the clients aren't taking notice of Davis' efforts, the ensuing social media attention should certainly work in his favor.
Frankly, it's the most impressive promo item we've seen since photographer Jens Lennartsson had 400 action figures of himself crafted and sent out.
[via Reddit]