Scottish National Portrait Gallery Acquires Most Epic Photo of the Queen
Her Majesty wouldn't look out of place in Game of Thrones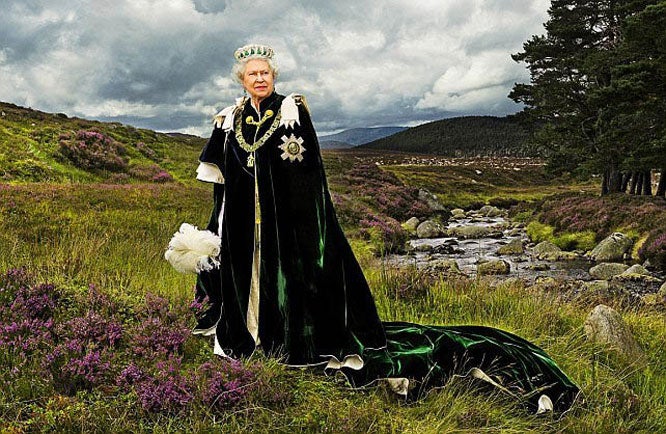 The Scottish National Portrait Gallery has just unveiled a newly acquired image of Her Majesty, Queen Elizabeth II by photographer Julian Calder, and to put it bluntly, it's probably the most astonishing portrait of an 87 year old reigning monarch that you're likely to see.
The image is titled "Queen of Scots, Sovereign of The Most Ancient and Most Noble Order of The Thistle and Chief of The Chiefs", and shows the Queen dressed in the garb of the Scottish chivalric group, the Order of The Thistle, and was shot on location at her Balmoral estate.
The image itself is unique for placing the Queen outdoors, but still in full regalia. The photographer cited the influence of the famed Scottish painter Sir Henry Raeburn, who used landscapes in the backgrounds of his portraits, as the reason for this unusual move.
The photograph was taken in 2010, but was kept under wraps until last year, where it was unveiled as part of the book Keepers: The Ancient Offices of Britain (2013), by Alastair Bruce, Julian Calder and Mark Cator; and the image was then purchased by the Scottish National Portrait Gallery.
In May of last year, the Daily Mail had a brief behind the scenes of the portrait, which, as might be expected, was almost ruined by the temperamental Scottish climate. Not only that, but the Queen's presence at the shoot was lucky enough to wrap up just before a full on midge attack.
All we can say is that it's a commanding, regal, and utterly astonishing portrait. One that would seem more at place in a fantasy setting than what we're used to expecting from a real world monarch. But given her position, it seems the Queen probably has won the game of thrones. She does sit on one, after all.
[via ePhotoZine]