"Exposure" Helps You Craft Beautiful Stories From Your Photos
This new website allows you to intersperce beautiful images with text for compelling narratives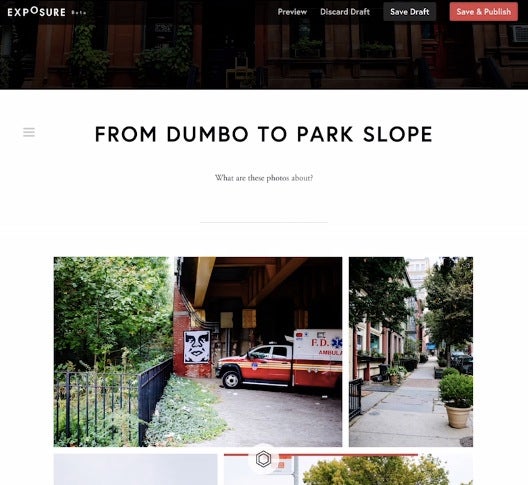 With the number of photo sharing sites on the web at the moment, there are quite a few ways to present your photos, but a new site called Exposure has recently left beta, and wants you to craft photo stories rather than galleries.
Exposure has an incredibly simple drag and drop interface, where you upload images as either full-width photos, or as a set of up to 12 images. Between each new insert, you can add text to create a narrative flow, or to just explain what the image is.
The editing controls are minimal, but the final result is gorgeous. And while the presentation is beautiful, it may not fit everyone's style.
Exposure is free to try, with up to three projects. After that, you're looking at $9 per month or $99 per year for unlimited hosting. Paying guarantees no ads, and also as yet undisclosed "premium features", though there's word that custom URLs are in the works.
There are still a number of problems and questions from the service. It doesn't support video (though that may be a plus for you), and there's no real sizing control for images. And asking $99 a year for it may seem a bit steep for many people. But for those who are just yearning for a simple way to create visually compelling image narratives, it might be the perfect fit.
[via The Verge]