Getty and Pinterest Join Forces, Will Now Attribute Images
Maybe Pinterest will no longer be a black hole of attribution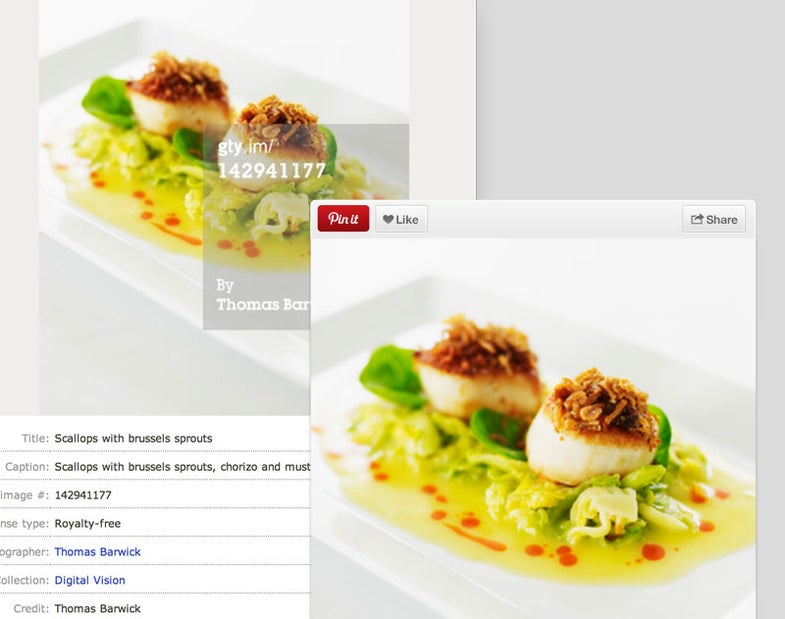 Pinterest, like so many other major social media networks, is all but useless when it comes to citing original sources. But a new deal penned between Pinterest and Getty Images should improve the situation slightly, embedding Getty's own metadata alongside the photo.
The deal means that if a Getty image gets linked or uploaded to Pinterest, information like the photo's title, author, caption, license, Getty image number, and more can all be displayed. Pinterest will be paying Getty for the image data they share, and their assistance in making sure images are properly attributed.
It seems that Pinterest might get something out of the deal, too. In an example in the blog post, they mention that a Getty image of "scallops with brussels sprouts, chorizo and mustard fondue" would allow Pinterest to suggest recipes that match the description — in other words driving your traffic in specific directions, perhaps to a paying client.
According to TechCrunch, Getty will use its PicScout image recognition technology to identify the Getty images, and then its Connect API to link to the metadata — and that it will share its fee with photographers whose work is used.
The new attributions seem modeled on Getty's watermark redesign from last year.