Taiwanese Coffee Shop Prints Photos of Couples On Lattes
Want to drink your own face? Here's your chance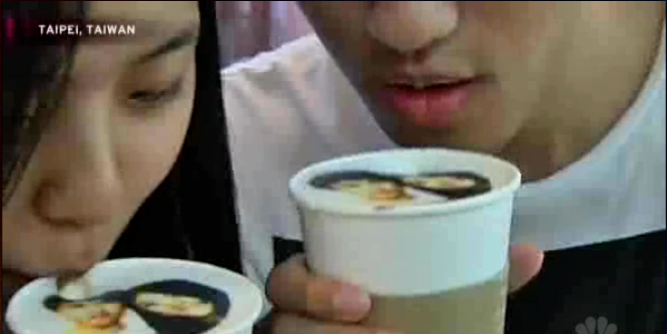 Visit your local shopping mall and you'll see that there's still a pretty robust market for junk with pictures printed on it. Want a T-shirt with your face on it? No problem. A mug for grandma with a photo of her grandkids? It'll take just 10 minutes. But, a coffee shop in Taiwan is actually printing photos of couples on top of their lattes.
Visit NBCNews.com for breaking news, world news, and news about the economy
According to a short video on NBC News, the shop is doing it in honor of Valentine's day. They have a massive machine set up to plop edible ink on top of the foam on top of their lattes. The process takes just 5 minutes and doesn't even add any cost to the already-cheap $1.50 drinks. It seems similar to the tech that bakeries have been using to make photo cakes for years.
It's hard to tell from a web video, but the results actually look pretty impressive. I've seen some pretty nifty coffee foam art in the past, but these actually look like photographs floating on top of the cup.
it's cool, but I'm not entirely sure I'd want to drink my own face. I would, however, like to get a stirrer and go all Salvador Dali on my own portrait before downing the coffee.
Would you try this at your local coffee shop?