Samsung Shows Off "Origami" Cardboard Printer Concept
Why does the exterior of your printer have to be high quality, anyway?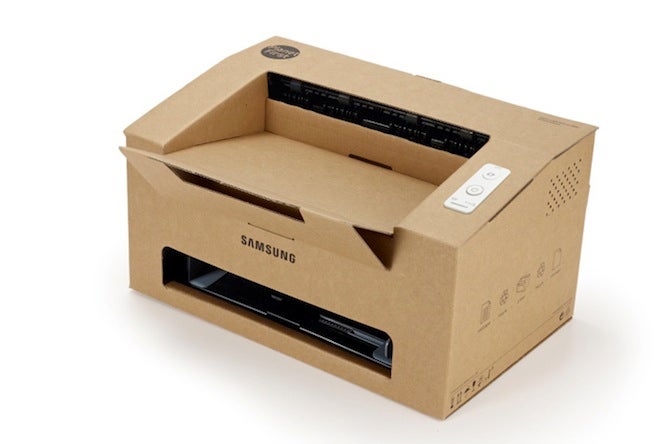 Unless you have a high-end model, there's a pretty good chance you see your printer as semi-disposable. Maybe it came free with your computer, or you got it dirt cheap on a Black Friday sale. It costs a fortune in ink to run, and when it dies, you'll leave it on the side of the road in the hopes that someone will take it home thinking it works. But why do the exteriors of a printer have to be so big and heavy, when it's the insides that counts? Samsung is challenging these notions with a trio of concept printer designs that embrace the semi-disposable nature of a printer.
These were presented as part of the 2013 International Design Excellence Awards, where the trio of printers took gold.
There's the Origami, a "100 percent recyclable personal mono-laser printer designed for the eco-conscious. At the end of the printer's life, its materials can be recycled to produce more paper for printing." The Clip features a flat-packed hard plastic exterior that requires next to no assembly, and the easily customizable Mate Easy.
The interior of these printers isn't any different than what's already on the market, but in a world where we're more than happy to throw out a printer as soon as it gives us trouble, making them simpler, recyclable, and hopefully cheaper, can only be a good thing.