"Pinhole Movies" Turn Camera Obscuras Into Time Lapses
Two photographers have taken camera obscuras, and used them to make innovative time lapses of the world broadcast on the walls of apartments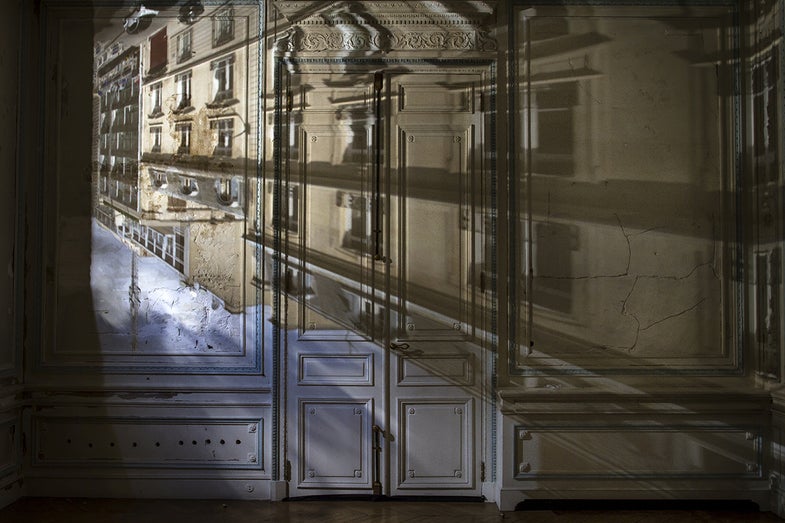 We've covered both time lapses and camera obscura a few times — both techniques are undergoing a substantial surge in popularity. Setting up your DSLR for a time lapse is now extremely easy, and all it takes to make a camera obscura is a bit of time and effort. But a pair of photographers have now combined these two techniques, crafting incredible videos of an inverted landscape, projected on the walls.
The project is called Stenop.es: Pinhole Movies, and is put together by Romain Alary and Antoine Levi. who have started their project just using the wall of a kitchen, but have since expanded into a variety of rooms and locations, culminating in the duos most recent film in a Parisian flat.
Rather than using a plain wall as a flat, blank canvas, the detailed and intricate surfaces of the various rooms allow the projection and the physical space to interact. It's fascinating to watch the inverted scene from outdoors moving at high speeds across stationary and cluttered walls.
If you have a room you think Stenop.es would be interested in, they're always looking for new locations.
FRANCOIS 1ER ● STENOP.ES ● from Romain Alary on Vimeo.
GHAT – CAMERA OBSCURA from Romain Alary on Vimeo.
BOAT EXPERIMENTS ● STENOP.ES ● from Romain Alary on Vimeo.
[via Gizmodo]