Dotspin Will Turn Your Creative Commons Images into Gift Cards
Tag your photos, get them popular, get gift cards in return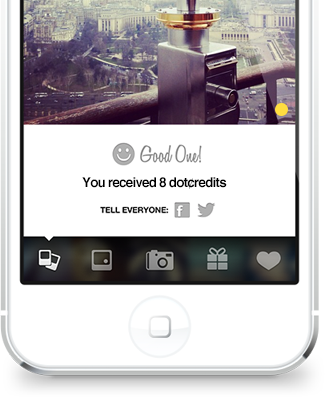 Dotspin is a new website that wants you to submit your images, and depending on how popular they are, may give you gift cards for Amazon and iTunes in return.
The site itself is quite simple. You sign up by linking in your Twitter or Instagram account, and any image you tag #dotspin gets automatically Creative Commons licensed, and put to the users for a vote. The more people who like your image, the more "dotcredits" you earn, which can be used to cash in for gift cards and smartphone apps.
All images are immediately released in "attribution based" Creative Commons licenses, and you can set your profile as to if you'll allow commercial use, or modifications.
Once your image is in the system, the other users can vote on it. Voting is presented in a decidedly odd way, with viewers being shown two images at once, and picking the one they like — and since it appears to be random, you could be faced with two very good (or very bad) images, and forced to pick a better of the two.
The payouts are also fairly low. One dotcredit will get you around $0.01 of real world value, so you need thousands of likes on your images before you'll be able to get a $25 Amazon gift card.
But if you're a big fan of Creative Commons, and want to get more of your images out there for other people to see, this could be a way for you to get something small in return.
It will be interesting to see how this turns out from a legal standpoint in the long run. After all, online sharing communities are full of stolen images, often racking up thousands of likes at a time. It's a little worrisome that this might reward that in a tangible way. Still, it will be interesting to watch and see how it fares.
[via PetaPixel, Photopreneur]