NYIP Launches New Online Photo Project Submissions [Sponsored Post]
New York Institute of Photography Launches New Online Photo Project Submissions. Photography courses just got better, faster.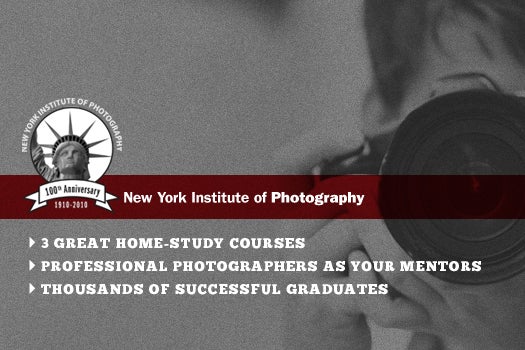 Do you want to take better photos? Do you want to wow friends, win contests, and get published? Do you want to earn money with your photography?
The right photography training can make all the difference. With the New York Institute of Photography, you get:
· Expert course materials delivered to you, anywhere in the world
· Access to a personal student advisor to guide you along the way
· Photo projects evaluated by a professional photographer
· A certificate in photography from the world's largest photography school
And now, all of NYIP's students have access to a new online photo submission process. For a long time, students had to print photos and mail them in to the school for review. But that's all in the past. The online submission process means students get more direct access to their teachers, and get feedback on their projects faster than ever before.
It's a great time to be a photography student!
Check out what these recent graduates have to say:
"I appreciate how flexible and understanding NYIP was with me. During my studies, I had a few personal setbacks, yet wanted to complete my degree. With the help of my advisor, we were able to set up a timeline so that I could achieve my goals. My advisor also provided me with excellent critiques that I will be able to put into practice as I continue my career. I have grown as a photographer as a result of my completion of this program. Thank you." – Kristy Y., Pennsylvania, 2013 NYIP Graduate
"The professional photography course has been an amazing journey for me. To look back and see my images before I started the course and after I completed the course just make me say wow! I have learned so much through this course and it has brought me so far in my knowledge. My instructor was wonderful and told me exactly what I did right and wrong in each of my projects. I started this course with the paper system and as I was ready to submit my last project it went online. I wish I could have completed the entire course online, but I know future students will love it." – Joseph L., Florida, 2013 NYIP Graduate
So take the first step toward a rewarding life as a trained photographer. Request a FREE course catalog from NYIP today!