Lightroom 5 Beta Brings Improved Healing Brush, Smart Previews
New tools and other improvements make their way into Adobe's image workflow software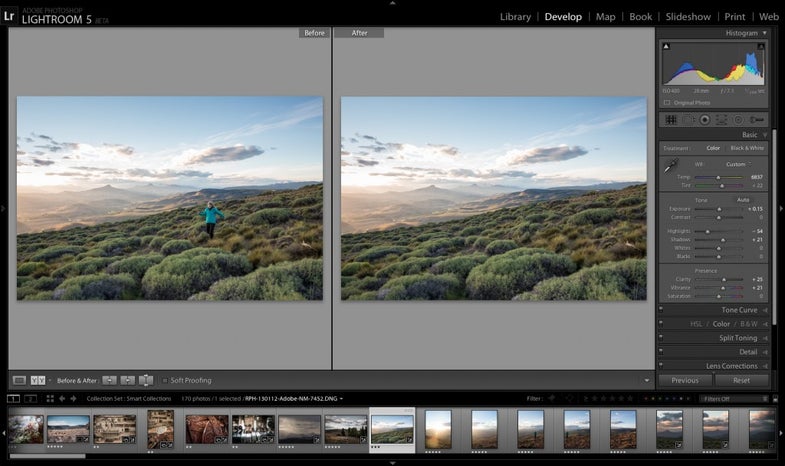 For many photographers, Lightroom has become a pretty important part of the photographic workflow. Now, the new version, Lightroom 5, is available to try before the final code is ready.
There is no new RAW process with this version of Lightroom, so your images won't look noticeably different than they did in the previous version. One of the big jumps from version three to version four was the new process, so don't expect to see a change in your images right off the bat. They have added some nifty new tools, though.
One of the biggest new additions is that of the advanced healing brush. It's basically a seriously beefed-up version of the Spot Removal Tool, which can now be used as a proper brush. It seems a lot more versatile and may help spare you some Photoshop work in the future.
Another big addition is that of Smart Previews, which let you save smaller versions of the files that you can still work with. They look to hover around 1 MB and are big enough to export for just about anything you could want to do on the web. It's meant to help people who can't decide which files they want to bring with them when traveling since hard drive space is limited.
Upright is another interesting feature which attempts to automatically remedy photos that were taken when the camera was askew. It actually does a pretty impressive job straightening things up for an automatic tool.
Other new additions include the Radial Filter tool, which lets you apply adjustements in circular shapes to select pieces of the image, and a revamped vignette tool, which should not be overused.
There are a lot of other features, which we'll discuss later in our hands-on, but if you want to try the Lightroom 5 Beta, you can do so right now for free over at the Adobe Labs site.
Just be sure to back up your stuff before running it. I had one crash already when doing a heavy-duty import with smart previews turned on. But, it's a Beta, so it's to be expected.