Google Now Lets You Search For GIFs
Find the appropriately pithy animation with Google Image Search's new tool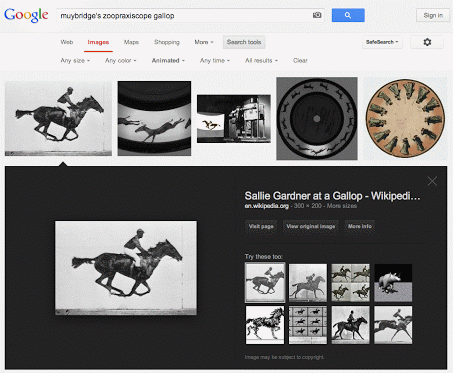 Animated Gifs are a touchy subject. Some people find them offensively awful, while others think they're charming and sometimes even hilarious. Well, thanks to a new feature rolled out in Google Image Search, it's now that much easier to find them. Announced over a small post in Google+, the "Type" menu in Google Image Search's "Search Tools" mode now has a new option: Animated. And, with that, you can limit your image search to GIFs and other animations.
Over the last couple of years, the animated GIF has seen a dramatic resurgance in popular use. While once primarily associated with mid-90s bad web-design, the rise of Tumblr has seen the GIF become an increasingly popular method of communication. Google's new search tool allows you to easily search for anything from zoetrope animations, the works of Eadward Muybdridge, or just a good Deal With It meme.
Google isn't the first website to offer GIF searching, but services like Giphy now have to deal with competition from the kings of search. Giphy plans on launching tools to allow users to edit and remix gifs, and animates them on mouseover rather than click through, but we'll see how well they hold up with Google now in the game.
[via PopSci]