New Video Game Graphics Made Almost Entirely from Photographing Real World Objects
Rather than build each level of their new game, "Rustclad," directly in 3D, developers Skull Theatre have turned to photogrammetry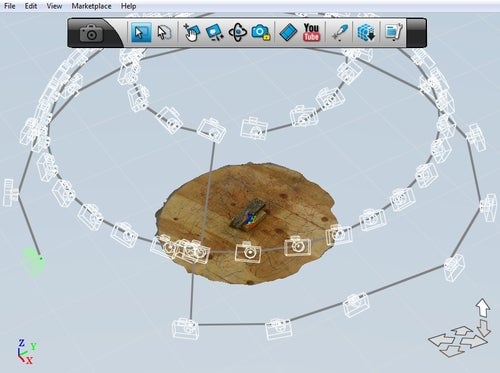 Usually, the process of building a 3D level for a video game requires exactingly creating the environment in a 3D modeling application. But developers Skull Theatre have decided to go a very different way with their upcoming title Rustclad, photographing real world objects, and inserting them in the game.
The group is using a technique known as photogrammetry. They construct props in the real world, and then photograph them, after which software assembles together a 3D object that can be used in the game. For example, an orange juice carton would be painted up and covered in cracks, and a window could be crafted out of a picture frame. They'd be placed one at a time on a wooden base, and then photographed from a series of different angles, and it's all combined into a 3D model.
Perhaps most impressively, the software the organization is using is called 123D Catch, and it's free — there's even web-based and iOS versions. To be sure, Skull Theatre have refined the set up significantly by a setup with fixed lighting and known reference points to work from, but it's based off of the same stuff anyone could pull together at home. The camera rig is entirely off the shelf products, and there's nothing immensely complex in the workflow they use.
And the resulting esthetic speaks for itself.
[via BoingBoing]