Flickr Bug Turns Private Images Public
Some users were finding their private images available for the world to see — and no amount of changing settings would put them back to private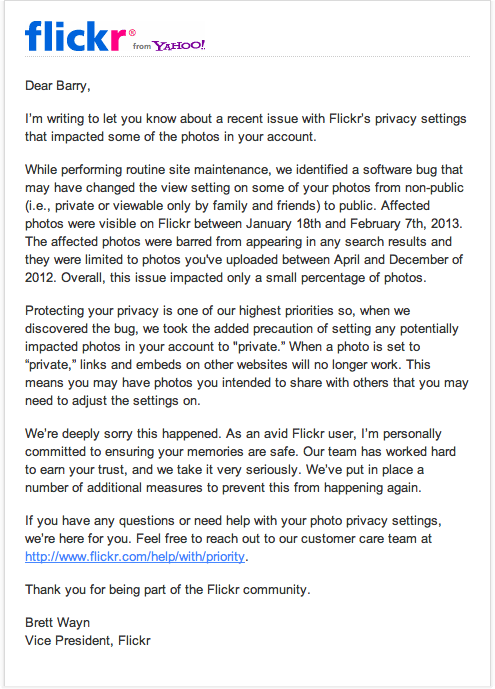 Some Flickr users were greeted by an ominous sight over the weekend: an email from the website saying that their private photos may have just spent the three weeks in public view. In the message sent out to the users, Flickr VP Brett Wayn apologizes for a "software bug" that rendered these photos widely visible for weeks, from January 18 to February 7, until Flickr could patch the hole.
It turns out that while some users might not have noticed the problem, many on Flickr have, and have been loudly bringing the issue up on the support forums for some time. Those who did notice the problem had no way of setting their images back to private, leaving the images open to the public eye. Once Flickr finally did fix the problem, it then turned some public images to private, pushing the problem in the other direction.
According to the company, the number of effected users is "very, very small," which is why Flickr walked the path of emailing individual users who were hit, rather than contacting everyone en masse. You can check to see if you were one of that group by clicking this link while logged into your Flickr account.
On the plus side, the email stated that the images weren't able to be picked up by any search engines at least, but it's worrying for anyone who trusted Flickr to keep their private images…well…private. Be they just family photos that you don't want to share with the world, or images of a more salacious nature, people trust Flickr to keep their privacy settings intact.
[MarketingLand and SearchEngineRoundtable, via the Verge]