Polaroid Planning Fotobar Stores For Printing Smartphone Photos
Starting with Delray Beach, Florida, the Polaroid Fotobars are expected to pop-up in 10 different spots around the country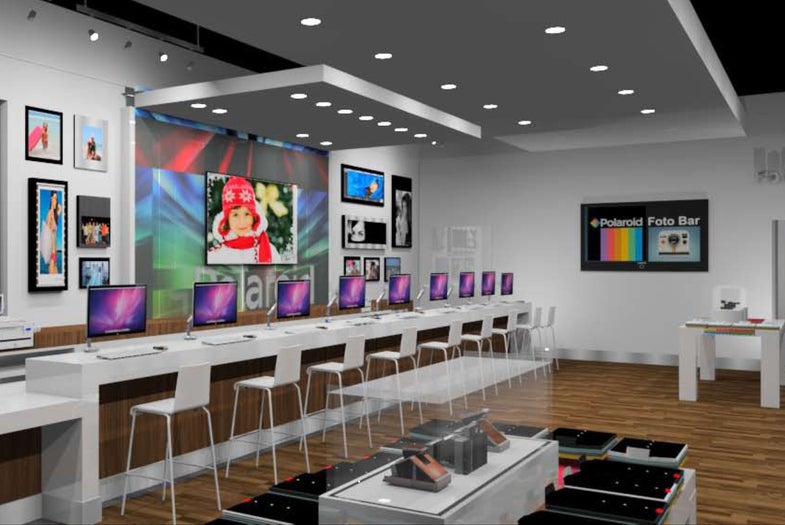 The financially ailing Polaroid is making a risky move — expanding into a new type of retail. Borrowing a page from the Apple Store playbook, Polaroid has announced its plans to open at least 10 Fotobar stores around the USA in 2013. Starting with a 2000 square foot location in Delray Beach, Florida, and with planned stores for Boston, New York, and Las Vegas, these "experiential" stores will give you a pleasant location to pop in, and get prints made of your smartphone or social media photos — and assumedly, ones captured on the upcoming Polaroid Android ILC.
Polaroid will be using CES to unveil a bit more about the Fotobars, but the website is already live. According to the press release, "patent-pending proprietary technology will allow in-store customers to select their favorite pictures on their camera phones and wirelessly transmit them to one of the store's bar-top workstations for quick and hassle-free ordering within seconds." In other words, there will be a smartphone app, you'll select the images you like, and then transfer them for editing. The Fotobars will also be able to pull images off of web-services like Facebook, Instagram, and Picasa, and will have some basic editing at the computers you use.
It appears that printing will not happen on site. Again, from the press release, "customers will be able to choose from a wide variety of materials, substrates and framing options for their individual works of art – all of which are handcrafted and shipped worldwide to the consumer in just a few days. Images can be framed, matted, and/or printed directly onto a variety of unique substrates including canvas, metal, acrylic, wood and bamboo…All products created by consumers at Polaroid Fotobar retail stores (with the exception of certain poster products made on-site) are handcrafted and shipped from the company's state-of-the-art manufacturing facility within 72 hours."
I hope there's at least some degree of quick printing available. I can see the appeal of being in a city, capturing an incredibly fun shot with your friends on Instagram, and then popping in to a store like this to get a few copies printed to share. But having to wait for them to print and assemble them somewhere else and get them shipped to your house? It kills some of the spontaneity and magic of mobile photography.
It'll be interesting to see if making an interesting store, staffed by trained "Phototenders", will be enough to counter-act the current decline both in Polaroid, and in photo printing in general.