The Two Most Popular Instagram Spots are an Airport and Mall in Bangkok
Instagram has released a list of the most Instagrammed places in the world, and topping the lot are Suvarnabhumi Airport and the Siam Paragon in Bangkok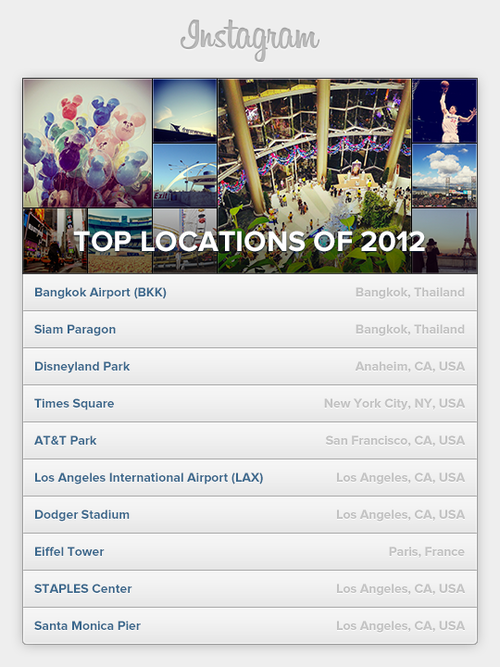 Instagram's list of its top locations for 2012 is really interesting, because it seems that people are taking photos in a lot fewer monuments and typical tourist spots than you might think. Most bizarrely, the top two spots are the airport and a high-end mall in Bangkok — not the locations you'd expect to be some of the most photographed in the world.
According to Instagram, Suvarnabhumi Airport and the Siam Paragon Mall are respectively the #1 and #2 spot for people to snap Instagram shots from (assuming they have location data turned on). While I can kind of see why they'd be snapping away at the airport (after all, who wouldn't be happy to land in Thailand), the fact that a high-end mall is also high up the list seems a bit bewildering. Apparently Instagram is incredibly popular in Thailand, which may have something to do with it.
Rounding out the list are Disneyland, Times Square, AT&T Park in San Francisco, LAX Airport, Dodger Stadium, Eiffel Tower, Staples Center, and Santa Monica Pier. So, by my count, that's two airports, a mall, four tourist destinations, and three sports stadiums. A full six of those are in California, and four in LA alone. A pretty diverse spread — but who in their right mind would be happy about being in LAX? It's a miserable airport.
[via Gizmodo]