Printing Perfection: How to Print Like a Pro [Sponsored Post]
Canon PIXMA Pro Series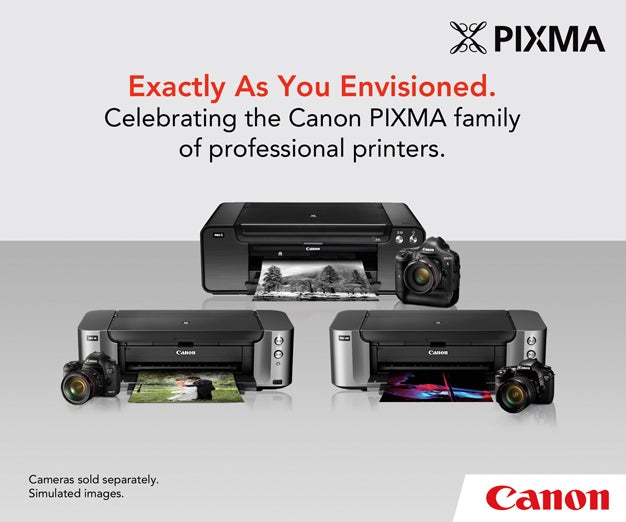 Printing is the final, most crucial step in showcasing and sharing the results of your creative quest. If you expect to make prints that consistently achieve the exceptional level of quality and brilliance that your work deserves, it's essential to choose an advanced state-of-the-art printer that reproduces every nuance and detail captured by your camera exactly as you envisioned it. To provide three great choices for committed shooters that demand the ultimate in print quality, speed and workflow efficiency, Canon has created the impressive PIXMA Pro series—a trio of cutting-edge printers that all deliver stunning exhibition quality prints, which professionals can truly be proud of, in sizes up to 13 x 19 inches. Canon offers both dye and pigment ink sets with pigment-based or dye ink systems with multiple monochrome inks for smooth tonal transitions, deep blacks, outstanding detail and superior contrast on both fine art and glossy papers. Indeed, these printers represent nothing less than the technological transformation of a timeless tradition.
Canon PIXMA PRO-10: This superb new hi-resolution high-speed printer delivers stunning professional quality prints using a 10-cartridge pigment-based LUCIA ink system with three monochrome inks for vibrant colors, rich blacks and smooth tonal transitions—all with outstanding detail and contrast. It has built-in wireless connectivity and has a plug-in that is compatible with a range of popular post-production apps.
Canon PIXMA PRO-100: With its advanced ChromaLife 100+ dye-based eight-cartridge ink system, including three monochrome inks and an advanced hi-res printhead, this outstanding new high-value printer delivers gorgeous exhibition quality prints with saturated colors and rich blacks along with the workflow speed you need, plus the sharing convenience of connectivity via Wi-Fi and Ethernet.
Canon PIXMA PRO-1: The top-of-the-line PIXMA PRO-1 sets the standard for printing of the highest professional caliber with ultra-high resolution output and a cutting-edge ink system that includes 12 pigment-based LUCIA inks, including five monochrome inks for color and black-and-white prints of spectacular depth and brilliance. It's the perfect high-speed printer for working professionals.