Holiday Offer from the World's Largest Photography School
Celebrate the holidays! Celebrate photography!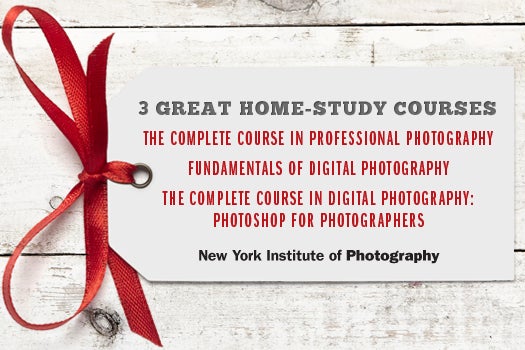 Every year around this time the New York Institute of Photography hears from thousands of avid photographers (many of them also happen to be Popular Photography readers) who want to know how they can capture more great memories with friends and family.
Tis the season, right?
So this year, we decided to make them, and you, a special offer:
Request a Free Course Catalog from NYIP and you can get started for just $35!
We offer three great course, depending on your interest and skill level. You can read all about them here. Each of them allows you to study at home, anywhere in the world, at your own pace. And each of them gives you access to a professional photographer as your teacher and advisor, a key to learning photography.
Take a look at what some of our recent grads have to say about their NYIP course:
"My understanding of photography greatly increased as a direct result of the NYIP Course. My photo sales have also increased…since I finished I have had a coffee table book of photographs published." –Bryce S., Ohio
"I really enjoyed the flexibility your program gave me. Being able to learn on my own time was helpful. With children, a family, and a job, going to school is not easy. But your program allowed me to get an education in an area that I love in my own home. Thank you so much NYIP!" –Mya H., Minnesota
Request your Free Course Catalog** online right now or call 1-800-445-7279 for more information.**
Make this the year you finally learn to become a better photographer!