Pixels for Pistols Want to Swap Your Guns for Cameras
Canadian retailer Henry's will give you a Lumix DMC-FH8 for a functional firearm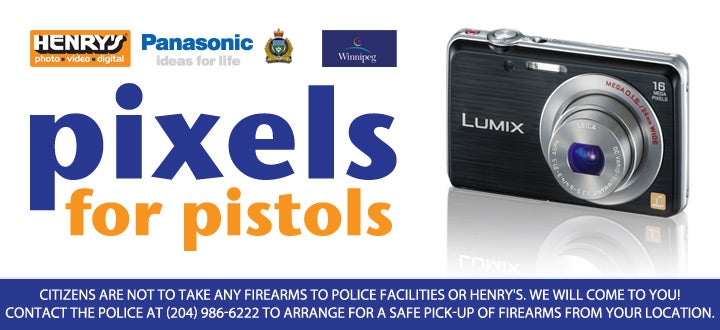 The city of Winnipeg and Canadian camera store Henry's are teaming up to offer people the opportunity to trade in guns for a new camera. The program, dubbed Pixels for Pistols will give people a Panasonic Lumix DMC-FH8 and a voucher for photography lessons in return for a working firearm — a bundle worth some $240. If you have a gun floating around that isn't functional, you can still get the $75 photography school credit.
For four weeks starting November 1, people can contact the Winnipeg Police Service, who will arrange a time to come to their house, and exchange the weapon for the camera. So no, strolling up to a police station or store with a weapon in hand is probably not the best of ideas.
The Pixels for Pistols program began in 2008 in Toronto, where more than 900 firearms were exchanged for Nikon Coolpix cameras — that year rifles or firearms netted you a Coolpix P60, an assault rifle or pistol was worth a Coolpix S52. The original exchange was so popular, the program had to be extended to keep up with demand. The program wasn't aimed so much at getting illegal firearms off the streets, but rather lowering the number owned by citizens who don't want or need them — which was the origin of 30% of firearms used in crimes in 2008.
We'll see if the intervening four years have done anything to damper the popularity of the program.
[EDITOR'S NOTE: In effort to get out in front of more gun control debate in the comments, I'd like to reiterate the fact that this program isn't about taking guns away from people who keep them for self-defense. It's rather an option for people who have guns they don't need or have inhereted. Rather than having them lay around or sold (which can be tedious) they can be traded into the authorities. – SH ]
[via PetaPixel]