The Onion Mocks Our Infinite Facebook Uploads
That reminds me, I have at least two albums of travel pics I need to put up...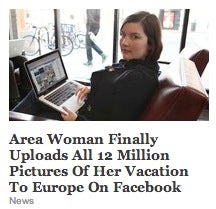 It's something we're almost all guilty of. The widespread nature of digital cameras and cheap memory cards means that our trips get thousands of photographs of anything vaguely interesting — often just with itty bitty variations. And then they all go on Facebook. Leave it to the Onion to perfectly skewer this with their article Area Woman Finally Uploads All 12 Million Pictures Of Her Vacation To Europe On Facebook.
I think we all have full well experienced the "400,000 shots of the Madrid skyline taken at dusk from the roof of our hostel" and the "120,000 of the row of cute Vespa scooters parked on the sidewalk next door."
The Onion has a pretty good track record of parodying gadgets and tech. They already hit our constant need to record everything with "Police Slog Through 40,000 Insipid Party Pics To Find Cause Of Dorm Fire", and you can't forget their pitch perfect parodies of Sony (profanity warning) and HP — the latter is especially timely given the huge number of cloud services that have popped up over the last year or so. And Apple fans? You're probably the most widely targeted of all.
And, of course, no discussion of the Onion would be complete without Literally Unbelievable, a collection of people who don't know what parody is.