Eye-Fi Reportedly Working on a Cloud Storage Service Called Circ
The online photo storage climate is getting even "cloudier"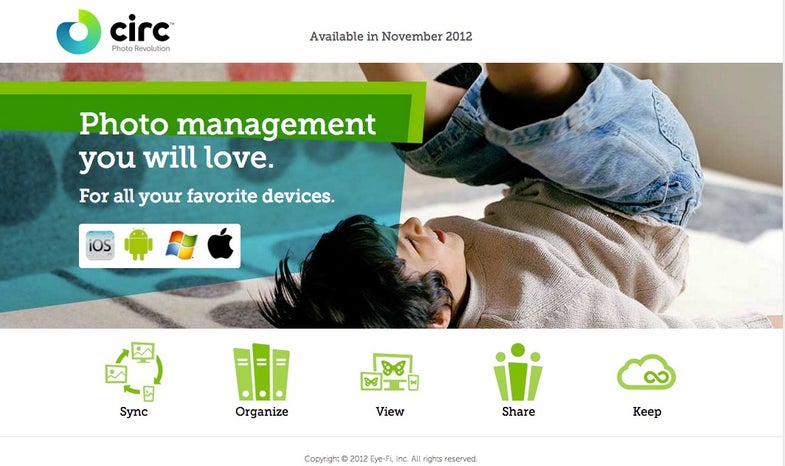 There's a boom going on in cloud storage of images right now. Everyone from Amazon to AT&T has put together a website and an app where you can stash a couple of gigs of images as needed. Yet another player seems to be poised to enter this market, this time in the guise of Eye-Fi, who have recently put up a page for a service called Circ.
Information is still pretty slim about this website and service, we only really know that it's from Eye-Fi thanks to the copyright text at the bottom. As spotted by the Phoblographer, the icon for "Keep" on that front page seems similar to the 500px infinity logo, though they are subtly different.
PetaPixel put in some legwork, and discovered the original trademark filing from August, where Circ is described as "a web-based and/or cloud computing-based server system and downloadable software application for uploading, downloading, transferring, display, editing, sharing, synchronization and electronic storage of digital photographs and video across multiple platforms and multiple electronic devices."
Other than that, there's not much here to make it obviously different from other cloud service websites. It appears that Circ will work on iOS, Android, Mac, and PC; and it'll allow you to sync, share, and organize between devices. Billed as being available in November 2012, that's a only another 11 days before the month ends.
Do you think automatic cloud backups from your Eye-Fi card is a good idea? That as the image is beamed to your computer/tablet, it also goes online? It could make sharing images with clients and friends remarkably easy — but is it anything you couldn't just finesse together from Dropbox?