Photos From Eggleston, Penn, Mapplethorpe, Weston and More Go Up For Auction
A lot of 347 photographs is up for sale at Christie's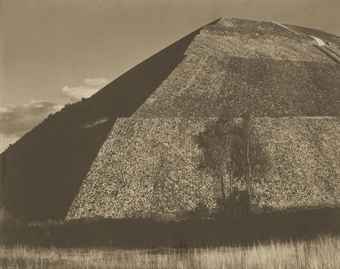 Sourced from 10 different collections, this October will see Christie's auction house put up 347 influential photographs for bid. With the auction set for early October, the prints are estimated to go individually from as much as $250,000-$350,000, down to $1,000 at the low end.
The prints up for sale read like a who's who of 20th century photography — and unsurprisingly, it's a William Eggleston that has the highest expected price. Eggleston's work has been extremely popular of late, and none more so than his iconic Memphis (Tricycle) shot, which is pegged to go as high as $350,000 at this auction. That actually might be on the conservative side, earlier this year a large format recent print of that same work was expected to fetch $200,000-$300,000, and actually went for an astonishing $578,500.
Other prominent art up on the auction block includes an Irving Penn Vogue cover from 1950 (expected to go for $200,000-$300,000); a rather yellowed looking print of Ed Weston's Pirámide del Sol, Mexico, 1923 for $120,000-$180,000; Helmut Newton's Panoramic Nude with Revolver, Como, Italy, 1989; and Ansel Adams' Aspens, Northern New Mexico, 1958, which is expected to bring in less than $100,000.
More than just one-offs, this sale also has some substantial bodies of work by individual photographers. There are some 19 images by Robert Mapplethorpe, primarily of flowers but also include two shots of nude children that played a major part in the legal attacks against Mapplethorpe's work at the Contemporary Arts Center in Cincinnati, specifically the charge of "the use of a minor in nude materials."
There are also collections of works by Cartier-Bresson, including Rue Mouffetard, 1954; 11 prints from_ _Diane Arbus; and a couple of Warhols.
In case you were wondering what the cheapest lot available is, it's a NASA shot from Apollo 16, and it'll cost you just $1,000-$1,500.