New York Times Freelance Photographer Arrested While Shooting
Yet again, police officers have arrested photographers doing their job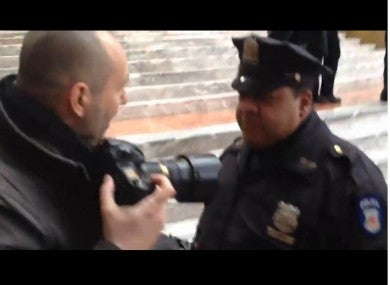 It was less than two weeks ago that Washington DC affirmed the rights of photographers to record the police, but unfortunately, there is still plenty of conflict to go around. A freelance photographer working with the New York Times was arrested over the weekend while on assignment.
Robert Stolarik was working with two photographers interviewing people in the Bronx, and was taking photographs of what the Times dubbed "a brewing street fight." After recording shots of the police arresting a teenage girl, Stolarik says the police ordered him to stop shooting. He declined, and identified himself as a journalist. He says that then his camera was slammed into his face, his gear was taken, and he was dragged to the ground and kicked in the back.
The police, on the other hand, claim that they gave orders for the crowd (including Stolarik) to move back, and pushed forward, inadvertantly striking a police officer in the face with his camera. They also claim he "violently resisted being handcuffed," and that a police officer cut his hand in the scuffle.
Stolarik was charged with obstructing government administration and with resisting arrest. He was released at 4:40am on Sunday morning, having suffered scrapes and bruises to his face, legs, and arms.
It shouldn't matter that Stolarik is a journalist, any individual is allowed to record the police in public. His companions recorded a video of the event, which allegedly shows him on the ground surrounded by six officers.
Stolarik previously clashed with police when attempting to photograph the Occupy protest movement last year, which lead to this video going viral — and is the source of the image above. And with video of this incident forthcoming, it's likely that we'll hear a lot more about it.