Natural or Digital Manipulation: Victoria's Secret Edition
Amidst accusations of editing run amok, what do you do when that's just how a person looks?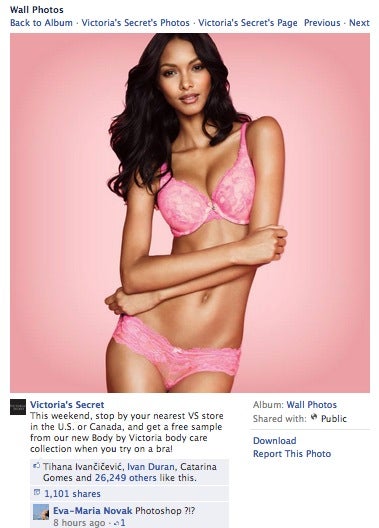 It's not hard to argue that modern advertisements overly post-process images, especially reshaping women in ways that are just about physically impossible. This has lead to a recent and significant backlash — but what do you do when an image is accused of being a Photoshop Disaster, but actually isn't? Like was the cover shot we covered in July that may have just been shot from a really weird angle.
There's no argument that Victoria's Secret's photoshops its images significantly, as we saw when a series of un-retouched images surfaced recently. But the image above of model Lais Ribeiro was posted to the Victoria's Secret's Facebook page, and instantly met with accusations of photoshopping. Looking at the image, it does look like someone got too happy with the liquify tool on her torso, stretching it and bending it.
However, others have pointed out that Ribeiro naturally has an incredibly long and slender torso, even when shot on the runway. Sure, the skin has been touched, but has the body been distorted? Or is it just a combination of someone with unusual physiology photographed at an odd angle? It's impossible to tell for sure, but even if that's the way she normally looks, the commenters of the VS Facebook page aren't too happy about it.