Photographer Asks for Internet's Help in Finding Newly Engaged Couple
A tourist snapped photos of an unsuspecting couple as they got engaged in DC, now she is trying to find who they are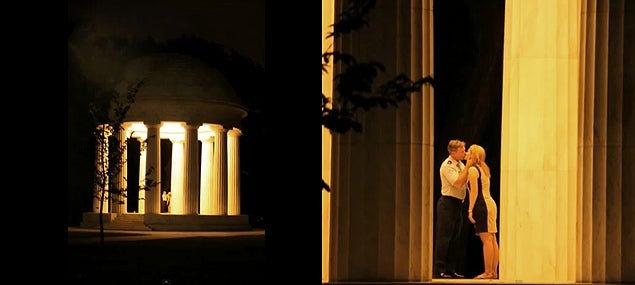 engaged couple
There is no such thing as a lost photograph or camera, or an unidentified person any more. We've seen it time and again: a camera is lost, the images are posted on Facebook, or make it to the news and within a day the owner is found across the country or the world. Anonymous subjects in nearly any image are identified within hours thanks to the interconnectivity of the Internet. Which is what teacher Angila Golik, from Carson, Nev., is hoping happens with images she captured of a couple getting engaged at the D.C. War Memorial in Washington the evening of July 2.
Golik, was in Washington for an education conference, and was sightseeing with several other teachers. While snapping pictures of the rotunda of the War Memorial, she noticed a man dressed in a military uniform and a woman wearing a black and white dress illuminated in the center. "I had this feeling come over me, and I knew that he was going to propose," she explained.
"I saw him pull a ring out of his pocket and then put the ring on her finger. That's when I started clicking," she said. "When they were done we started cheering for them. But we were so far away they didn't see us. I yelled 'I have pictures,' but they didn't hear," she explains.
Once home, she started trying to track down the couple, posting a photo on Facebook and making a YouTube video, hoping that like the other stories, someone would recognize the couple.
"One thing I don't have are pictures of my own proposal. I would have loved to have that," she said. If you think you know who the mystery couple is, you can contact Golik at adgolik32(at)gmail.com.
Via. Chuck and Kelly