Jeff Wall Photo Fetches $3.6 Million At Auction
A 1992 photograph by Jeff Wall has fetched a record $3.6 million, making it the third most expensive photo ever sold at auction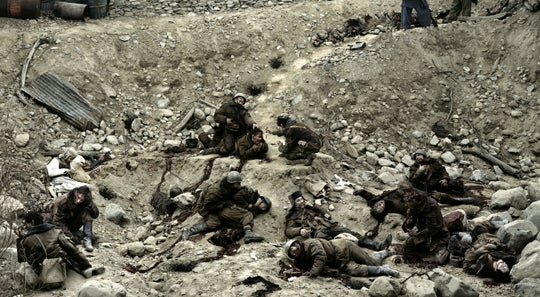 Dead Troops Talk
Dead Troops Talk (A vision after an ambush of a Red Army patrol, near Moqor, Afghanistan, winter 1986)
As part of a contemporary art sale at Christie's auction house, a photograph by Jeff Wall fetched $3,666,500 — the most ever for a work of Wall's, and one of the most expensive pieces of photography of all time. The image is _Dead Troops Talk (A vision after an ambush of a Red Army patrol, near Moqor, Afghanistan, winter 1986), _which was shot during the Soviet/Afghan war, and printed in 1992. It's one of just two prints — and an artist's proof — and is a transparency on top of a light box.
_Dead Troops Talk _​marked Wall's foray into digital art, with the actors photographed in the studio, and then digitally composited in the outdoor scene.
Over the past 12 months we've seen a rash of photography auctions that have fetched record breaking amounts of money. Cindy Sherman's Untitled #96 fetched $3.9 million, Andreas Gursky's Rhein II recently broke all records by hitting $4.3 million, and a collection of Eggleston prints netted $5.9 million. The sale of _Dead Troops Talk _was only expected to reach $1.5-$2 million, and the previous record for a Jeff piece was $1.1 million.
This same auction saw a number of major contemporary art sales, including a Rothko which fetch $87 million, a Klein for $36 million, and a Pollock for $23 million. Curiously, the same Cindy Sherman which fetched such a high price last year was also on the auction block, and went for just $2.8 million, $1.1 million less than the previous time.
[via PDNPulse, image from Mediun Kunst Netz]