Philips Vital Signs App Measures Your Heartrate and Breathing via iPad Camera
So why isn't it available on other platforms?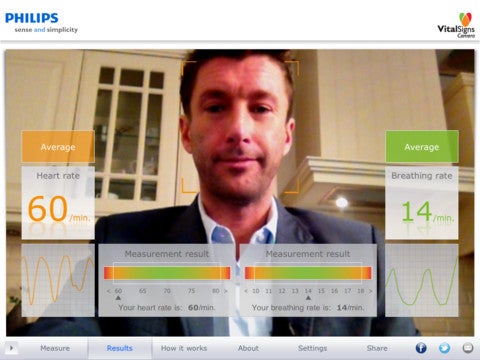 The iPad 2's front-facing camera is nothing to be excited. A frankly average piece of hardware, which only records video and images at VGA resolution. Sure, it's fine for video chat, but you wouldn't want to use it for much more, which is what makes it so cool that Philips has created an application that can measure your vitals just based on video footage from that camera. Called Vital Signs Camera, it's a $0.99 download on the App Store, and iPad 2 only.
The application gets you to sit still in a specific position, and then measures your pulse and breathing rate based minute changes in your skin tone for the former, and your chest movements for the latter. While I don't quite see the point of sharing this info on Facebook (unless you're bragging about being able to drop into a trance-like state), emailing this info to a healthcare provider could prove useful.
But if the camera required to do this is so low-end, why isn't this tech on more devices? Surely it could be parsed onto an iPhone or Android devices? Or even better, a web-app which uses a webcam. That way you'd be able to have a video chat with a doctor, and have them measure your vitals from a distance. That seems far more useful than tweeting how fast you're breathing.
[via Make]