Photojournalist's Photo Helps Authorities Hunt Down and Arrest UK Criminal
Getty photographer captures a series of shots of the crime and identities of all men are quickly found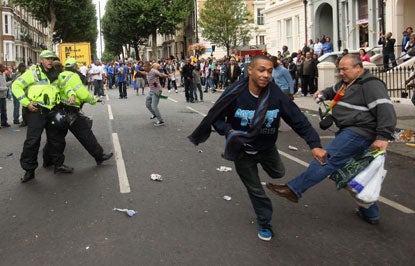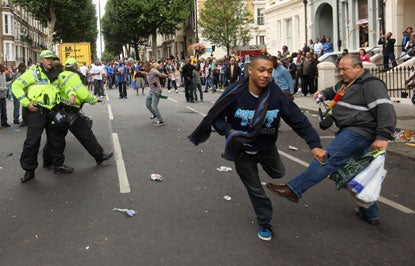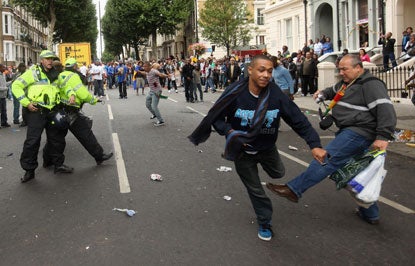 london stabbing
There was a time in the not so distant past when the only witnesses to a crime were those that were at the scene, and police had to rely solely on the memories and resulting descriptions of the criminals. Now, if someone is in a public place, especially during a large event, it seems increasingly likely that not only will their actions be caught on camera, but posted and distributed online. Forget seven degrees of separation, finding someone who knows any given person seems almost to be an inevitability–the time limit on anonymity in today's world seems to be about 24 hours.
Take one of 2011's most memorable images for example: the "Riot Kiss" from Vancouver, the identities of the couple was figured out within a day. Or the website LondonRioters.co.uk which used crowd sourcing to find the identities of looters during this summer's riots in London.
Now, an example of a photojournalist whose images not only helped to catch a man who stabbed another man during London's Notting Hill Carnival in August, but caused unexpected fall out for others involved. A series of photographs of the moments around the stabbing taken by Getty photographer Oli Scarff, a Getty photographer, quickly went around the world, and changed the lives of the men in the images.
The public quickly indentified Junior Henry as the man fleeing the scene, and he has since been sentenced to four-and-a-half-years in jail for the stabbing. The man seen trying to trip him as he fled ex-Ukrainian police officer Valentine Simatchenko, came forward after seeing the images, and was first championed as a hero. Until, a week later when his past was called into question, by a newspaper claiming he was dismissed from the St Petersburg police after being accused of two murders.
The policeman in the images, Roger Webb has faced a lot of criticism from the public that claim the photos show him reacting slowly to the crim. He claims the images are misleading.