Xerox App Tries to Automatically Separate "Good" Photos From "Bad" Ones
In a move of algorithmical hubris, a Xerox project is attempting to automatically judge the aesthetics of an image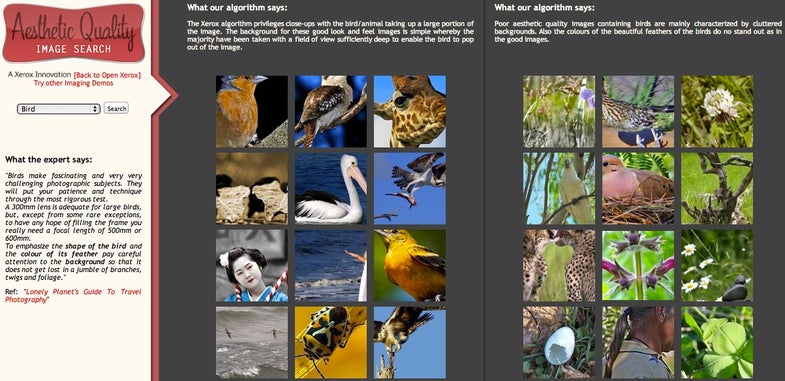 Xerox Aesthetic Image Search is an interesting application, which while still in alpha form has an ambitious goal — a way of automatically spotting which images are good and which aren't. However, a quick play with the demo demonstrates the fact that it has a long way to go before it can be considered effective in any way.
Xerox doesn't elucidate where the images are coming from, simply that they're classified using the company's automatic image categorizer, then filtered by if the image is good or not. For starters, the categorizer is broken, as you can see in the image above. That's meant to show birds, but within the first dozen "good" images are shots of a giraffe, leaves, a woman in a kimono, and an insect. Jumping over to the flowers section, you can also see the weaknesses of the algorithm, where it heavily favors images shot against a black background, at the expense of all others — likewise with portraits. Judging all photos "good" or "bad" by strict rules only leads to uninspired photography, and reminds me of nothing so much as when famous photos were submitted to photo review sites.
That said, this software is in very early stages, and we've seen recognition software improve by leaps and bounds in recent years, so who's to say it won't one day reach the point where it can help us decide if a picture is good or not? If nothing else, it'd be a fast way of weeding out the obviously hideous photographs after a shoot.
[via PetaPixel, Quesabesde]