Time Magazine's Changes Cover for US Edition
The magazine routinely puts a different image on the cover in America, sometimes with a more series slant, sometimes not.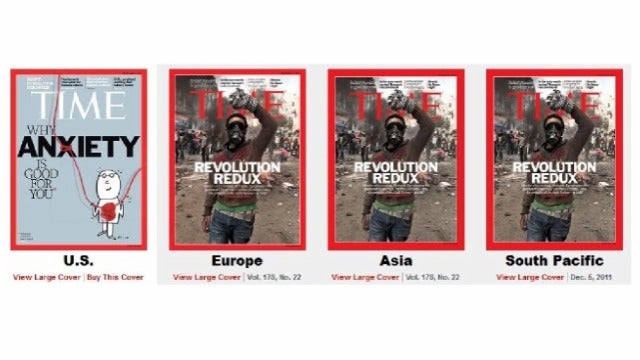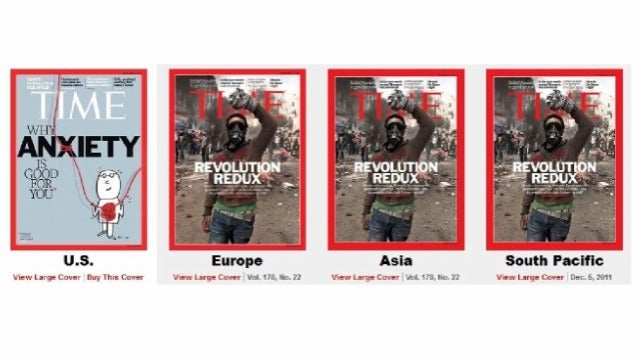 Time Cover
For its December 5 issue, Time Magazine is running a cover story in the U.S. titled "Why Anxiety Is Good for You." Reassuring perhaps for stressed out readers years into a recession. But therein lies in the controversy, because the same issue of the magazine published elsewhere in the world features an attention-grabbing close up of a gas-masked protester in Egypt with the much less comforting headline "Revolution Redux."
One criticism is that Time is wary of drawing parallels in American minds to the Occupy Wall Street movement. But, the magazine ran a cover
story on the protests on October 24th. The other angle of scrutiny is that the U.S. edition of Time is light on world news, perpetuating the stereotype that Americans don't care about goings-on outside of themselves, or that the U.S gets the "lighter" news stories. Those condemnations can be debunked with a look at the October 31st covers featuring a cover story about China in the U.S. edition while the issues for the rest of the world ran a cover story about the family friendly movie Tintin.
It's not uncommon for the magazine to run different covers in different markets, sometimes the differences seem like a stark contrast between hard and soft news, gripping photos and begin illustrations. And other times, like with the November 14th covers, the topics and images are different but not glaringly politically pointed.
Deciding what cover story and image to use is often based on past reader surveys and perceived relevance to the target audience. If Time chose not to run a cover image of upheaval in Egypt in the U.S. it likely had more to do with test marketing and newsstand appeal than a sinister plot to keep World News out of the hands of Americans.
What do you think? Are Americans missing out on serious world news? Would the Egypt photo play well on U.S. newsstands?
via. Gakwer